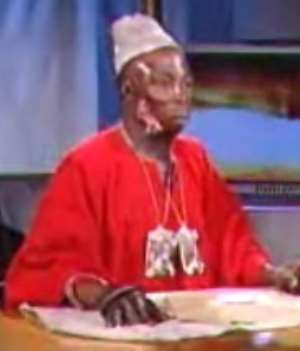 The dreaded fetish Priest Nana Kwaku Bonsam has claimed that he has given over 1,000 Men of God in Ghana the power to perform miracles.
Furthermore, the fetish priest maintained that he has accepted a challenge from one of his critics who had dared him in a battle of supernatural powers.
Nana Kwaku Bonsam told DAILY GUIDE last Monday at his shrine at Sa-Peiman, a village on the outskirts of Nsawam in the Eastern Region, that his god is called 'Kofi-Kofi', from whom he sources powers for the pastors who come to him and are ready to pay for his services.
The fetish priest said for the past six years he has kept a low profile and not blown the cover of the pastors, but is ready to expose them now because the very pastors who had come to him for powers have started condemning him in public, with some even daring to challenge him.
When DAILY GUIDE got to Kwaku Bonsam's shrine, hundreds of people had gathered there to secure his services. Judging by their appearance and the type of 'posh' cars they had parked at the premises, some were obviously in lucrative businesses.
Others appeared to be middle-class market women and young men who are eager to make it in life. The rule is that one could only enter the shrine barefooted and without a phone or a wrist watch.
The fetish priest is by no means a poor man, as anyone who enters his shrine for consultation pays an amount of GH¢10 aside the cost of the rituals.
As part of his rituals, the priest hangs a cat alive and slaughters several fowls, a white dove, pigeons and goats and then spills the blood on his god.
The inner shrine is parked with several other gods and also has many cartons of talcum powder, Holy Bibles, razor-sharp machetes hung around the room, a riffle, golden rings, money, padlocks, calabashes and many other items which were veiled.
DAILY GUIDE (DG): Who is Nana Kwaku Bonsam?
KWAKU BONSAM (KB): That is my name and as you can see, I am an Ashanti fetish priest; a powerful one of course, and I use my powers to heal the sick, help people who want to travel abroad, help traders get better sales, protect people from fraudsters, dis-empower witches and wizards or help people who have one problem or the other.
And I am well-known for the wonders I perform in this country so I receive people from all parts of the country and even people from other countries.
DG: What type of ailments do you cure?
KB: Oh, I have cured and continue to cure sicknesses like lunacy, barrenness, stroke, epilepsy and any other disease you can think of, except leprosy. I have not done that before.
DG: That sounds good, but why the name "Bonsam"; it connotes something evil.
KB: I got that name due to the wonders I perform. I once took my gods, 'Kofi-Kofi' and 'Chacha' to the palace of the chief of Techiman and I was able to conjure money, a gold watch, handkerchief and other things there and that was so wonderful that the chief of Techiman, Nana Ekumfi Ameyaw IV said since I was called Kwaku and every Kwaku has 'Bonsam' as his nickname I must be a real Kwaku Bonsam to have performed the kind of things I did and that was it - the name just stuck.
At the palace, I was able to plant cocoa seeds and they germinated on that same day; I planted a mango seed and it germinated the same day and I killed a house-fly, resurrected it and made it fly round for all to see.
I also conjured a 'Kente' and a pair of royal sandals. So it is not that I kill people or I destroy things; rather I stand for good things.
DG: For how long have you been doing this?
KB: I am in my fifth year, nearing my sixth year, and I did not learn my skills or beg for it from anybody.
DG: How did you come by it?
KB: I was working at a gas station and there was this time someone was sick and I had to send him to the hospital though I did not know him.
After he was treated the man gave me his address and asked me to visit him later. I followed the address and it took me to the North, way after Navrongo.
I finally got to him at a village and after a brief stay, he gave me something and said what he was giving me would send my name very far and no one can bring me to shame in my entire lifetime and that my children would inherit the blessings of what he was giving me.
At that time I did not know what it was and I was a little disappointed because I thought he was going to give me some money for the help I gave him; rather he gave me a deity.
The next day I threw it away but it came back to me and that made me a little scared. I then threw it in a manhole but the manhole exploded and it came back to me again.
Then there was this time I went to witness a fetish dance and I got possessed and started to perform wonders for the first time.
DG: What exactly were the wonders?
KB: Anything I touched turned into money and I even stood on a fresh egg, which did not break. After that incident a lot of other deities appeared in my room on their own. So it was not as if I went to buy my powers and idols. They came on their own.
DG: Is it true some pastors come to you for powers?
KB: Yes it is true. I give powers to perform miracles to a lot of pastors. Currently I have over one thousand seven hundred and something pastors; I might need to look into my register for the figure.
DG: How do you give the powers to them?
KB: When they come to me I give golden rings to some of them after taking them through a ritual bath. I give them the ring and a Bible and the power I want them to get is what I put in the ring.
I give some the power to heal, others to see into the future and or the past, or do anything I want them to do. It helps their churches get more members who always want to see signs and wonders.
DG: Some Pastors have taken you on and dared you to mention the names of which pastors come to you. Rev. Ebenezer Adarkwa-Yiadom had even dared you to an open challenge of supernatural powers on the 15th of this month.
KB: I want to tell that Pastor in plain language that I Nana Kwaku Bonsam has not challenged any Man of God.
I am only against those false pastors who have come to me for powers and yet are not keeping their mouth shut but rather making provocative statements against me.
I am also against those who have gone for powers from other shrines yet preach against us and do not abide by our rules.
I heard Rev. Yiadom in the media saying I have gone to buy a god from somewhere and I have no powers and I should name those who come to me and all that.
This whole problem started when Pastor Collins Agyei Yeboah, that pastor from Vision Charismatic Chapel at Kato (near Berekum in the Brong Ahafo region) came for miracle powers from me and was misbehaving to an extent that my gods asked me to go and collect the power else I would pay with my life.
This was what annoyed the pastors in town and they started attacking me. Well, at least that is one clear example of a Man of God who has come to me for powers.
If my gods had not asked me to go and take back my powers I would not have spoken out because it was supposed to have been a secret.
DG: And what about the challenge?
KB: I think he is the one calling for the challenge to see what I have got. I am the defender of the title so I would determine the venue.
I want the whole world to hear me loud and clear that I proudly accept to challenge Rev. Yiadom or any other pastor but I want to do that at the forecourt of the Ghana Broadcasting Corporation (GBC) on the Ringway in Accra. I can kill a house-fly and bring it back to life.
I can conjure money from nowhere. I can plant a palm tree and make it grow that same day. I can pull the edge of a sharpened cutlass on my throat without it cutting me. And I can heal a lot of sicknesses.
I hear he can open the eyes of the blind so I have gone to see the authorities of the School for the Blind at Akropong in the Eastern region that I need two busloads of blind people.
I am also arranging for two busloads of the deaf and dumb plus a busload of cripples.
I want to meet that pastor and his group at the GBC forecourt for us to see who is who. Anytime he is ready I would face him live and colored, else he is not the pastor he claims to be. He threw the challenge and I have accepted it.
When we meet and I fail to do my wonders, then I should be called a liar. I would also laugh at him if he fails to do his part.
DG: Are you challenging God?
KB: No. It is not God I am challenging but this is a pastor challenging a fetish priest and I want to show him the other side of the world. I have not attacked these pastors but they are always insulting me on radio instead of preaching the word of God.
Put me on record that I am ready to face that pastor and some other pastors they call Computer man and Kum-Cha-Cha.
They should open the eyes of the blind on that day or shut up. My god 'Kofi oooo Kofi' says he is ready to face them before the television cameras. I would not allow them to bring anybody from somewhere to come and play some tricks on Ghanaians.
They should combine to pray for fire to drop from heaven to consume me; but if they are not able to stop me from doing the wonders I have always done, then they should burn their Bibles because they cannot use the powers in it.
DG: Are you daring all pastors?
KB: There are some few good pastors in town; Dr. Mensah Otabil is one and he has never insulted me. Madam Modicia Adomako, a pastor in Kumasi, Bishop Agyin Asare and Archbishop Duncan Williams are all good pastors.
The orthodox pastors are not insulting me but it is these 'two-by-four' pastors who are creating the problems. The anointed pastors are rather not talking or challenging me.
It is these false pastors who want publicity that are attacking me in the media and I am now ready to face them once and for all.
DG: What does a fetish priest know about false pastors?
KB: Why do they come to me all the time? Listen to how they preach in their churches and mention the names of their church members who have AIDS as if it is not an embarrassing disease and should be kept confidential. Such pastors preach with much arrogance and are not humble.
Why are they riding in a lot of cars when their church members are hungry? The Bible itself says we should all bring our belongings, sell and share with the poor and needy.
The necklace on the necks of some of them is longer than that on a burger who just returned from Holland. You might be too young to know what a 'Burger Kuperlee' is.
Some of them are using the church for fashion parade and sell their anointing oils at very high prices - some as high as five hundred thousand cedis.
Was that not why Jesus beat up the gamblers in the temple? Some pastors today are virtually being worshipped by their church members, when Jesus himself was a humble person; yet they turn round to insult Kwaku Bonsam.
Let them preach the gospel and leave me alone.
DG: I am surprised you are computer literate and you have two laptop computers.
KB: Why? Look here, I have four Laptops and not two; I use them to store data. I have been to school a little and I am still learning.
DG: What do you do with the Bibles in your shrine?
KB: I was not born a fetish priest. I was attending church when I got possessed and if I wanted to do what the others are doing I would have attached my fetish to my Bible and called myself Reverend Stephen Osei Mensah.
When I was in school my name was Stephen Osei Mensah. You cannot cheat me with the Bible; I study it a lot. If we had time we would have gone into some biblical doctrines.
Source: Daily Guide