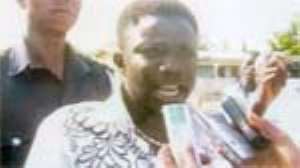 KWAKU BONSAM, a well-known fetish priest, has dared
Reverend Dr. Ebenezer Adarkwa-Yiadom, the Founder and Leader of Ebenezer Miracle Worship Centre in Kumasi, to compete with him in a show of spiritual prowess.
The Akomadan-Afrancho-based fetish priest contends that he is spiritually stronger than any man of God on earth and that his ability to perform miracles is unparalleled.
"If Rev. Adarkwa Yiadom strongly believes that he is spiritually more powerful than me, then I challenge him to meet me face-to-face at a popular place in Kumasi to perform miracles which would be witnessed by the public," Kwaku Bonsam stated.
"I'm ever ready to meet Rev. Adarkwa Yiadom anywhere including his church premises for that spiritual showdown."
The fetish priest indicated that if the Leader of the Ebenezer Miracle Worship Centre would accept the challenge he would demonstrate to the world that he (Kwaku Bonsam) was indeed powerful and that he was ready for miracles ranging from healing, raising of the dead, to casting of demons among others.
Kwaku Bonsam stated these last week on Nhyira Fm, a Kumasi-based radio station, while reacting to comments made by Rev. Adarkwa Yiadom to the effect that claims by the fetish priest that he had supernatural powers were false.
Rev Adarkwa Yiadom last week launched a blistering attack on Kwaku Bonasm at New Radio Mercury in Kumasi, describing him as an unstable person who was deceiving unsuspecting members of the public into believing that he was endowed with supernatural powers.
"I urge you all to disregard the so-called Kwaku Bonsam and detest his claims that he has powers and that some pastors even consult him for powers to establish churches," he told listeners.
Rev. Adarkwa Yiadom, who has one of the biggest congregations in the country, observed that the fetish priest was an agent of the devil sent to destroy mankind by tainting the image of men of God.
When contacted on phone, Rev. Adarkwa Yiadom indicated that he had wholly accepted the challenge and was ready for Kwaku Bonsam.
"I've accepted the challenge but I will not engage a fetish priest in a display of power in the church of God because it will amount to disrespect of the highest order," he said.
The pastor, who challenged Kwaku Bonsam to choose a place convenient to him for the showdown, expressed hope that the God he humbly serves will not abandon him and would make him triumph over the enemy.
Already the issue of the spiritual battle has taken centre-stage among believers and non-believers alike, who are anxiously waiting for the day for the show.
Kwaku Bonsam, who contends that over 1,000 pastors from Ghana and the world over had sought powers from him to establish churches, caused a stir recently when he stormed a church in Kato near Berekum in the Brong Ahafo Region to recover a juju a pastor had taken from him to establish his church.
The recovery of the juju was necessitated by the failure of the supposed man of God to pay the remainder of the agreed fee for the juju.
From Morgan Owusu, Kumasi