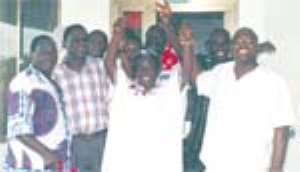 A SECTION of New Patriotic Party (NPP) supporters in the Tarkwa-Nsuaem Constituency of the Western Region has expressed optimism that the incumbent Member of Parliament (MP), Mrs. Gifty Eugenia Kusi, will defeat any candidate the opposition National Democratic Congress (NDC) will put up to contest the seat in the 2008 parliamentary polls.
According to the NPP supporters, the number of development projects accomplished by both the district assembly and the sitting MP in the constituency during her two successive terms of office far surpassed those of the NDC when it was in power.
They therefore made it clear that they would vote massively for the incumbent MP in the upcoming parliamentary election to enable her to continue implementing the NPP's good policies and programmes for the people in the area.
This came to light when DAILY GUIDE interacted with a section of the teeming supporters of the MP, who followed her to a Tarkwa hotel, where the party's constituency delegates endorsed her by popular acclamation to contest the parliamentary seat in the December 2008 parliamentary election.
Mr. Joseph Nyanzu, an ardent supporter of the MP, said it was when the NPP took over political power that the mining companies in the area showed great interest in the area by fulfilling their corporate responsibilities.
"I can say for a fact that because of the favourable business environment created by the NPP government, the mining companies in Tarkwa and its environs have set aside one per cent of their total profit annually for development projects in their catchment areas, apart from the royalties they pay."
According to Mr. Nyanzu, the mining companies were not making those contributions when the NDC was in power, and prayed that the NDC would continue to be in opposition so that the people of Tarkwa and its environs would continue to benefit from the mining companies.
After the Western Regional Chairman of the NPP, Nana Owusu Ankomah, had formally introduced Hon. Kusi as the aspiring parliamentary candidate for the constituency in the 2008 elections, her supporters hurriedly carried her shoulder-high while others sprinkled talcum powder on her.
The MP thanked the people for the confidence reposed in her, and assured them that she would campaign vigorously to increase the percentage of votes for the party in the upcoming general elections.
"Let us close our ranks and work assiduously as a team by joining forces with the foot-soldiers to intensify our membership drive and educate the electorate on our government's good policies and achievements," she remarked.
From Emmanuel Opoku, Tarkwa