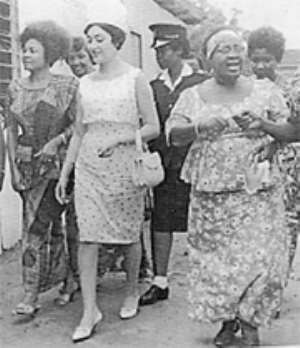 As I followed with some members of the CPP, the heart of Madam Fathia, I could almost hear the whisper from her -"Ghanaians, weep not for me but for your sons and daughters".
The sad death of Madam Fathia Nkrumah, widow of Ghana's first President, Osagyefo Dr Kwame Nkrumah of blessed memory, occurred on Thursday, May 31, 2007 at the Badraway Hospital in Cairo, Egypt where she had been hospitalised following a stroke last year.
Madam Fathia was 75 years old and her mortal remains touched Ghana's soil at 11:15 pm on Saturday, June 9, 2007.
Her death comes at the confluence of Ghana's 50th anniversary of independence, the next AU Summit this July in Accra and the election of President Kufuor as Chairman of the African Union (AU).
This confluence of events marks a monumental milestone for the re-examination of Ghana's achievements, its proverbial claim of hospitality and the progress made at uniting Africa into a powerful nation, which will be the custodian of the interests and security of every member of the race.
Her unique role in quietly and formidably supporting Osagyefo in Ghana and Africa's renaissance cannot be overlooked.
Madam Fathia got married to Dr Nkrumah on December 31, 1957 at the age of 25 in a simple and an inconspicuous civil marriage ceremony with a few ministers and Nkrumah's mother - Nyaneba in attendance.
The marriage lacked all the trappings and ostentation that normally befit a head of state. She married Nkrumah against the wishes of her mother and cut herself off from her family and country.
Initially, many Ghanaian women were opposed to the idea of Nkrumah marrying an Egyptian. The militant women's league of the CPP was disheartened that Nkrumah was marrying a "white woman". Eventually, Ghanaian women and the market women, especially, poured out their love for her as she loved them and became extremely devoted to them. She was indeed a woman of substance.
It was the exceptional strategic thinking and genius of Nkrumah to have combined love and marriage with African liberation and unity, thus the marriage to Madam Fathia, an Egyptian and indeed, an Arab.
Egypt was the focal point at that time in Pan-Arabism with President Nasser as head of the Arab League. Egypt had gained tremendous experience in anti-colonial struggles against British colonialism and her allied interference in the Suez war.
Egyptian self-determination and political independence were necessary ingredients in the crucible to crush colonialism and exploitation in Black Africa.
When Nkrumah convened the First All African Independent States Conference in 1958, almost all the independent countries on the African Continent with the exception of Ghana, Liberia and Ethiopia, were Arab States.
Pan-Arabism transcended black Pan-Africanism and Nkrumah saw the imperative of forging a strong strategic alliance with Pan-Arabism to awaken and facilitate the struggle against colonialism and imperialism in Africa. Even in love and marriage, his first love and devotion was the liberation and unification of Africa.
Pan-Africanism's evolution and origin at the conference in 1900 in Trinidad was distinctly and conceptually a movement to unite black people in Africa and the Diaspora.
Present at this conference were luminaries like Sylvester Williams, The Trinidadian barrister who was the conveyor, and W. E. B. Dubois, who had just then completed his PHD in History at Harvard.
Dr Dubois convened the Pan-African Congresses of 1919, 1921, 1923 and 1927 which were paid for by Afro-Americans. The Fifth Pan-African Congress met in Manchester, England in October, 1945. By that time Kwame Nkrumah had arrived in Britain after 10 years as a student in America.
The year 1945 was a veritable watershed of the Pan-African movement as Nkrumah and Padmore became Joint Organising Secretaries with Jomo Kenyatta as Chairman.
Dubois became the Honorary Chairman and father of Pan-Africanism. Padmore became Nkrumah's political mentor and Pan-Africanism developed a new momentum and focus to liberate Africa from colonialism and imperialism.
In essence, the struggle to free Africa moved from the Diaspora to the continent where it was domesticated.
This prelude and the marriage of Dr Nkrumah to Madam Fathia is important to underpin the socio-political subtleties with regard to the obvious contradictions and differences between Pan-Arabism and Pan-Africanism and Nkrumah's dexterity in steering both movements with a continental union and unity of African States.
The origins of Pan-Arabism were based on Arab religion and race whilst Pan-Africanism's origins were based on race and colour. Pan-Africanism in its development, therefore, was substantively and substantially a movement for the liberation and unity of black Africans and black people in the Diaspora.
Fathia's marriage to Nkrumah was a political union between Black Africa, often described as Sub-Saharan Africa and the Arabs of North Africa. She was a strong bridge, a foundation for the AU, which drew Arabs to black Africa for the common goal of liberating and uniting the continent.
After President Nasser had spoken to her of the responsibilities, potential risks cultural differences etc., which she faced in marrying Nkrumah, her prompt response was - "I would like to go and marry this anti-colonial leader. I read his autobiography - I know of his trials and tribulation, of his struggles during his student days in America and Britain and of his spearheading the anti-colonial struggle upon his return to his homeland; I am deeply impressed."
Her response was spiritual and showed an uncharacteristic devotion to the human dignity and essence. She was extremely devoted to Ghanaians and especially Ghanaian children. She loved Ghana more than many Ghanaians.
Ghanaians were not hospitable to Fathia and her children after the overthrow of Dr Nkrumah. This inhospitable treatment was exhibited by elected and revolutionary governments and betrays the much acclaimed Ghanaian hospitality.
We gave her a house and took it back several times. We gave her little support and withdrew it. We lied about Nkrumah purchasing palaces and skyscrapers and hoarding millions of dollars in Egyptian banks for Madam Fathia and her children.
Fathia had no foundations or NGOs or huge bank accounts, no monuments. No First Lady has suffered so much in the dark, lamentable history of political machination.
She lived with such stoicism, poise and calm through the several assassination attempts on her husband. She never for once berated Ghana and Ghanaians in spite of her deprivations and betrayal. She loved Ghana to death.
As we honour and bury her by her husband's side, let us resolve as a nation and a people to give true meaning to our much acclaimed hospitality especially for the living rather than the dead.
Let us stop for a while to think about the other First Ladies who are now here and will be here tomorrow. Are we treating Mrs Busia and Mrs Limann properly? Are we going to treat Mrs Rawlings and Mrs Kufuor properly? Let us ponder a while and restore our dignity as a people. We are walking in darkness and do not know where we go.
June 12 marks the anniversary of the founding of the CPP and we buried Madam Fathia Nkrumah on the same day. Her spirit will unite with Osagyefo's to elevate the CPP again.
As stated in John 12:6 "Unless a grain of wheat falls to the earth and dies, it remains alone; but if it dies, it bears much fruit."
Madam Fathia Nkrumah, may your blessed soul rest in perfect peace. Ghana and Africa wish you Damirifa Due!!!
Damirifa Due!!! Damirifa Due!!!
Article by Dr Kwaku Osafo