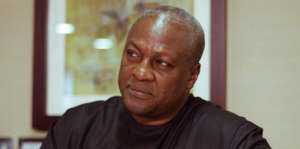 Former President John Dramani Mahama
Former President John Mahama has come under fire for promising to cancel teacher licensure exams, after records allegedly showed the policy was introduced under his first term in office.
Presidential staffer Dennis Miracles Aboagye shared a 2016 publication that says all newly recruited teachers from the 2016/17 academic year would need licensing.
According to the article, unlicensed teachers at the time were given three years to obtain certification or risk losing their jobs.
Mr. Aboagye claims Mr. Mahama is contradicting his own administration's education reforms.
This comes after the former President and flagbearer of the opposition National Democratic Congress (NDC) promised to cancel the teacher licensure exams if he becomes president again.
He asserted that the teacher certification programme is unnecessary and should not have been introduced because, in his opinion, teachers already take such exams at every stage of their training.
Speaking at Wenchi in the Bono Region as part of his Building Ghana Tour, the former president indicated that, "This is unnecessary. In our next administration, we will cancel the licensure exams."
This comes on the back of his 2020 manifesto promise where he planned to abolish the exams, which he says deny several qualified teachers the opportunity to be employed by the government.
"We will abolish the obnoxious licensure exams for teacher trainees and restore the automatic employment of teacher trainee graduates.
"Let me state unequivocally that no teacher trainee graduate will be denied posting or employment under the next Mahama government," said the former President.