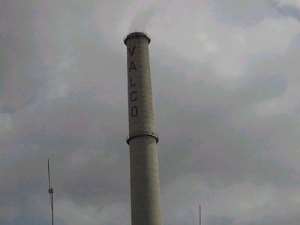 The Volta Aluminum Company Limited will effect from tomorrow suspend its operations due to inadequate power supply from the Akosombo Dam.
The shut down, the 11th in the history of VALCO since its establishment in 1967 will result in declaring majority of the 700 labour force redundant.
Dr Charles Mensa, Chief Executive officer of the smelting plant which the state has 90 per cent shares with 10 per cent for ALCOA, described the latest action as regrettable and a disappointment to those who looked up to VALCO to realize the late President Nkrumah's dream of industrialization.
He explained that the decision t shut down was voluntary when the company realised the declining level of water in the Akosombo Dam.
He said about 200 staff members would be retained too secure and maintain the plant.
Dr Mensa said the skeleton staff would build an extrusion and rod-mill plants in readiness for power to provide the environment for the country's industrialization and the creation of jobs.
He said the shut down would offer the management of VALCO the challenge to develop alternative sources of power.
According to Dr Mensa, in the interim the extrusion and rod-mill would help to produce aluminum doors and windows and transmission lines for electricity.
He said the long term objective of VALCO was to develop a coal fixed power plant to take the smelter plant off the national grid.
Dr Mensa explained that it was expected that it would take VALCO a minimum of 24 months to develop the plant, adding that VALCO was working with an independent power provider to start the construction as early as possible.
He said the plant, which will cost about $400 million to construct, would generate about 500 megawatts of power.
Dr Mensa said to enable VALCO to produce full capacity; the company required about 350 megawatts of power.
He said when VALCO achieved that objective; it would be in a position to give the surplus power to the state to improve the capacity of the national grid by about 150 megawatts.
Asked whether the use of coal to power a big smelter like VALCO was outdated, Dr Mensa discounted that claim and explained that coal was readily available in Enugu, Nigeria and Southern African countries.
He said VALCO could no longer rely on electricity to run the plant, adding that an investment whose raw material was electricity could no longer be predicted.
Dr Mensa said VALCO was better off generating its own power and taking control of its operations.
Source: Daily Graphic