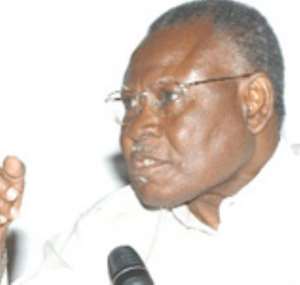 The Former Senior Minister, J.H Mensah has taken a swipe at critics questioning the expenditure made from the [email protected] funds so far.
At the beginning of the year in his state of the Nation's Address, President J.A Kufuor stated that government had earmarked $20 million for the celebrations of the country's 50th Independence Anniversary.
J.H Mensah explained that the $20 million was not for government use and that it was set aside for Ghanaians to celebrate the momentous occasion; "government's only job is to direct which events the money should used for, that's all".
"In any case, is it the government that is celebrating the occasion? It is Ghanaians so if those critics think that Dr Wereko-Brobby is not organising that event well, they can also go into the streets and buy themselves a bottle of beer, it is all part of the celebrations", he stated.
The Senior Minister said this over the weekend at the launch of the 'Volta Messenger', a quarterly magazine in Accra.
Describing the criticisms as petty, he said this attitude of pull-him-down continues to contribute to the backwardness of the country, adding, "In any case, what is $20 million?
"So because of this figure, detractors have been on the neck of the government from dawn to dusk. What is $20 million? As per head of the country's population (22 million as at 2006), this figure represents a dollar. Do you know the value of the dollar today? Just 9,000 cedis so is that what we need for occasion like this? Nine thousand per head?" He wondered.
Justifying the expenditure so far, the ex-Senior Minister who was a Finance Minister in the Second Republic said rhetorically that "looking at the caliber of dignitaries invited for the celebrations, what are those detractors telling us? That we should put them in hotels where the bed sheets are dirty? Do we expect them to walk to the programme of activities they have been invited for? We need to do the right things and do them correctly so that, at the end, Ghana will be the winner because our reputation is at stake here" he said.
Source: The Heritage