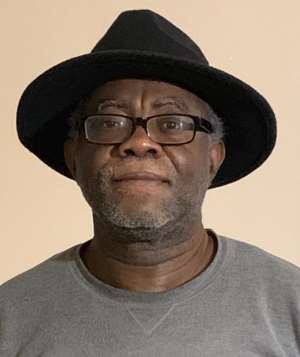 For two long years, per her own public testimony, under the rag-tag tenure of her megalomaniacal and grossly incompetent cousin John "Gnassingbe" (European Airbus Payola) Dramani Mahama-led government of the National Democratic Congress (NDC), Mrs. Joyce Bawa Mogtari, the politically shameless and freeloading agitprop spokesperson for the former twice-defeated, one-term President drove around the country without a driver's license, even as a comfortably ensconced Kwame Gonja barked out orders from his plush, red-carpeted, capacious and well-appointed Presidential Suite at Jubilee House for officials at the Motor-Traffic Division of the Ghana Police Service (GPS) to ruthlessly crack down on unlicensed motorists on our pothole-riddled roadways and highways.
In that patently gratuitous sweep, quite a huge number of motorists were hit with stiff fines and various prison sentences. This false public relations stunt and feint at making our roadways and highways seem to be safe was a decidedly gratuitous stunt because even as Mrs. Mogtari, the recent mother of triplets who was at the time the Deputy Road-Transport Minister, publicly confessed, the problem came from the rankly corrupt Mahama regime's inability to make license-producing supplies available to the staff and the hardworking administrators of the Department of Motor Vehicles, whatever it is locally called in Ghana.
So, it is rather risible and inexcusably duplicitous for this Ghanaian-taxpayer sponge to be imperiously lecturing the Akufo-Addo-appointed Health Minister, Mr. Kwaku Agyeman-Manu, on the imperative need and necessity for the government to "implement effective policies to sustain the National Health Insurance Scheme" (See "Introduction Isn't Enough; Find Ways to Sustain the NHIS – Bawa Mogtari Blasts Gov't" Modernghana.com 4/21/23). Now, being that it was under the watch of her elder first-cousin Kwame "Gnassingbe" Mahama and the latter's late boss, to wit, President John Evans "Atta-Woyome" Mills, who inherited the John "The Gentle Giant" Agyekum-Kufuor-established National Health Insurance Scheme (NHIS), in as well-oiled and robust shape as our National Healthcare System (NHS) could have ever been, it would be very instructive for this legally trained taxpayer-loofa to tell us, the bona fide members of the Global Ghanaian Community, precisely what administratively efficient and/or competent policy measures Cousin Okogufuo Yagbonwura Kwame Gonja implemented to make our National Healthcare System as robust or even far more robust than it is presently.
On the latter count, all eligible and prospective Ghanaian voters and citizens must be reminded of the fact that a newly elected President Addo Dankwa Akufo-Addo had to pump the gigantic sum of $ 2 billion (USD) to keep the Mahama-collapsed National Health Insurance Scheme afloat and functional, once more, through much of the 2017 and 2018 fiscal year. It is therefore insufferably offensive when mediocre politicians completely bereft of any meaningful and progressive ideas presumptuously take to the media airwaves to shamelessly grandstand on issues over which they have absolutely no significant knowledge or worthwhile expertise.
You see, leaders who pooh-poohed the very idea of the feasible implementation of a low-premium National Health Insurance Scheme, ought to humbly do themselves and the rest of us a favor by steering well clear of issues over which they have absolutely no meaningful contributions to make, besides maliciously causing an uptick in the blood pressure of those of us actually looking for constructive solutions to such bread-and-butter issues as a means of easing the back-breaking burden on the pate of the ordinary hardworking Ghanaian citizen. It ought to have also become limpidly clear to all Ghanaians by now, that the "Past Mistakes Correcting" Okogufuo Yagbonwura Kwame Gonja and his bootlicking cousin and spokesperson, so-called, have absolutely no innovative or creative contributions to make towards the socioeconomic development of our beloved nation.
To be certain, they are the sort of veritable dampers and nuisances that no country on the serious trajectory towards a middle-income status can afford to tolerate. You see, all that the "Gnassingbe" Dramanis and the Mogtaris care about in this life is how to cheaply and insolently buy off poor and miserable voters, with the proverbial thirty pieces of silver, in our particular instance, Forty Freshly Printed New Ghana Cedis, as the pathologically kleptocratic robber-baron leadership of the National Democratic Congress reportedly did during the party's May 13 presidential and parliamentary primaries, so that they would be able to regain undeserved access to our collective wealth and resources so as to enable them to savagely and ruthlessly exploit us to the marrow once more.
By the same token, generally well-meaning and progressive-minded politicians like Mr. Agyeman-Manu need to be more circumspect and guarded in their public pronouncements, and not unnecessarily provide strategic munitions for the charlatanic likes of Joyce Bawa Mogtari and her taxpayer fleecing associates of diehard political parasites and scumbags like Felix Ofosu-Kwakye. If, indeed, as we imagine it to be the case, the National Healthcare System is wracked with a significant number of administrative and/or functional hiccups, the most ideal setting for such discussion is at cabinet meetings, not the strategically counterproductive media airwaves. In short, if Mr. Agyeman-Manu has well exhausted himself of all creative and innovative ideas for effectively and constructively dealing with our admittedly complex National Healthcare System, by all means, let my Dear Dormaa-Ahenkro Aduana Kinsman give way to a much younger and more talented and vibrant and visionary technocrat. Trust me, the Elephant Party is replete with the men; and, of course, the women, too!
*Visit my blog at: KwameOkoampaAhoofeJr
By Kwame Okoampa-Ahoofe, Jr., PhD
English Department, SUNY-Nassau
Garden City, New York
June 2, 2023
E-mail: [email protected]