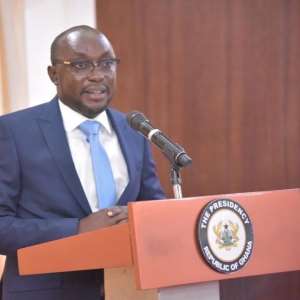 When Dormuo Aloysius Namaale gained admission to the Donetsk National Medicine Centre, Ukraine in 2017, he beamed with smiles. He knew the dream of becoming a neurosurgeon had just started.
But reality check set in. He did not have the money to drive this seven-year journey. He applied for a scholarship at the Ghana Scholarship Secretariat in 2018, and mother luck smiled on him. He secured $4,860 per year scholarship which covered his tuition, books and monthly allowance.
The scholarship also took care of his medical insurance, a return ticket from Ukraine to Accra, and a shipment allowance at the end of his study.
Ghana currently has 12 neurosurgeons, with 12 more neurosurgeons under training, according to the Ghana Neurological Association. That means the doctor-to-patient ratio is 1,291,0000. Dormuo's ambition would have enabled him to join the league of elite medical personnel whose job it is to perform surgery on the brain.
The Russia-Ukraine War
And so, Dormuo Namaale left Ghana in 2018. Midway through his study however, his dream begun to crumble. Following Russia's military exercise in Ukraine, the management of the Donetsk National Medicine Centre closed down the school in February 2022.
The Ghana government announced on March 1, 2022 that the first batch of Ghanaian students in Ukraine had been evacuated.
But Aloysius was not part of that group. He headed to Barbados to Victoria University where the Ukrainian university had arranged for its students to continue their education.
The transfer to Barbados
The Victoria University of Barbados, School of Medicine had been informed that the Ghana Scholarship Secretariat will bear all financial obligations to Dormuo.
"This memorandum of concession allows us to send our clinical year students to them to be trained in their university and teaching hospitals. Due to this new development, henceforth; we advise that all financial obligations to us be channeled to the administration of Victoria University of Barbados School of Medicine. The tuition fees remain 4,200. USD per year whereas accommodation fees moved to 1000.00 USD."
The School of Medicine in Barbados resumed in October 2022 and Dormuo Namaale has since been with the institution, pursuing his studies. The Ghana Scholarship Secretariat confirmed this arrangement and increased Dormuo's scholarship package to reflect his current living situation, according to a letter from the Ghana Scholarship Secretariat.
The letter said he was now entitled to living expenses to the tune of $5000 thousand and a $4,200 thousand tuition benefit per annum at the Victoria University of Barbados. It further added that the scholarship will end in April 2026, when he is done with his studies in Barbados.
However, the Ghana Scholarship Secretariat has not yet delivered on its promise, almost a year after the assurance to settle the tuition and other stipends was made.
Barbados University threatens to dismiss Dormuo
Following the Ghana Scholarship Secretariat's failure to honour its financial obligations, Victoria University has threatened to expel Namaale by June 7, 2023. He currently owes the university $8,400 as tuition fees for four semesters.
"Regrettably, the said body failed to fulfil their financial obligations to our institution and several emails and calls to them remained unresponded to. Management understands that you are a scholarship student, however, services cannot be offered to you if your scholarship awarding body does not fulfil their financial obligations, the university warned in a letter to Namaale.
"Please accept this letter as a formal warning from the higher authorities, if all outstanding bills are not paid on or before June 7, 2023, management would have no choice but to expel you indefinitely,"the letter concluded.
This is just one of the many letters Namaale has received concerning the non-payment of fees. The university also wrote at least three letters addressed to the Head of International Relations at the Ghana Scholarship Secretariat but has not received any response.
"It has even gotten to a point I don't know who to borrow from. I can say at the moment I owe people over $ 5,000"
Namaale says he has sent over five emails to the Ghana Scholarship Secretariat requesting his fees to be paid but he has not received any favourable response. In one of the responses, the Deputy Registrar at the Ghana Scholarship Secretariat, Afua Gyasiwa Gaisie, informed him that his money had been sent to the Ghana Embassy in Switzerland for onward transfer to his school.
"Your invoice will be paid by our Washington mission. Has your invoice been sent to the email address here?" Ms Gaisie asked in a WhatsApp message.
Dormuo Namaale told The Fourth Estate that when he contacted the Ghana Embassy in Switzerland, they confirmed receipt of the money. However, they said they could not make any disbursement until they receive approval.
"I have made numerous attempts to address this issue with the scholarship body, but unfortunately, my concerns have not been adequately addressed. The prolonged delay and lack of communication regarding the allowances have left me feeling unsupported and uncertain about my future," he told The Fourth Estate.
He also said he has been surviving by borrowing and living off friends and colleagues, a situation that has negatively affected his studies greatly.
"The failure to receive the expected allowances has created immense financial strain for me. I have been struggling to meet my basic needs, such as paying for my tuition fees, purchasing required textbooks and study materials, and covering my accommodation expenses. I have had to resort to borrowing from friends. It has even gotten to a point I don't know who to borrow from. I can say at the moment I owe people over $ 5,000," Namaale lamented.
He added that "If not for my good academic performance, I am pretty sure I would have been expelled by now. My dean has been vouching for me but now she is saying there is nothing she can do."
Dormuo Namaale is not the only one in this situation.
Two other Ghanaian students in Hungary also called for urgent intervention through The Fourth Estate. Clement Kojo Acquah, a fourth-year student studying General Medicine, and Rosia Sulemana Amedome, a first-year student who got a Hungarian scholarship for stipends from the secretariat, are also struggling.
The two were also at the Kharkiv National Medical University, Ukraine, before their transfer to Semelweis University, Hungary, where their education is co-funded by Ghana and Hungary Stipendum Hungaricum scholarship.
The Stipendum Hungaricum scholarship, launched in 2013, was to promote the internationalization of Hungarian higher levels of education and the Ghana-Hungary bilateral relations.
As part of the scholarship, a student is excluded from tuition fee payment and entitled to a monthly stipend. The Ghana scholarship letter Clement Acquah received after his transfer to Hungary indicated that he was entitled to a book allowance of $360 per annum and a monthly supplementary maintenance allowance of $300 in addition to the free tuition.
The Ghanaian government dutifully performed its role until the Russia-Ukraine war started. The tuition fee has been paid but students are yet to get their allowances.
Since February 2022, the three students said they have not received any money from the Ghana Scholarship Secretariat. They have also sent several emails but received no response.
The Registrar of the Scholarship Secretariat, Dr Kingsley Agyemang, visited the students in Hungary on March 29, 2023, and promised to ensure they receive their money, but they are yet to hear from them, Mr. Acquah told The Fourth Estate.
Mr. Acquah was advocating for five other Ghanaian students on the Stipendum Hungaricum scholarship to be enrolled on the Ghana scholarship secretariat so The Fourth Estate sent emails to the secretariat concerning these requests.
Ghana Scholarship Secretariat response
When The Fourth Estate contacted the registrar of the scholarship secretariat, he requested documents of the said students for onward action by the secretariat.
On May 23, 2023, a day after The Fourth Estate email, the secretariat responded in an email sent by Adwoa Acquah stating:
Three of the students (Clement Kojo Acquah, Rosia Sulemana Amedome and Dormuo Aloysius Naamale) have contacted the Secretariat subsequent to the Registrar's engagement with the Ukrainian students.
The Secretariat has issued new award letters to reflect the current status of the three students.
The Secretariat has included them in the current schedule of payment yet to go to the various missions. (The Secretariat is waiting for funds for this purpose, which will be soon)
The five other students on your list, however, are not on the list of the Secretariat as Scholarship beneficiaries.
On the Ghana Scholarship Secretariat website, The Fourth Estate found that beneficiaries of foreign scholarships are expected to renew their awards annually online.
"Existing foreign scholarship beneficiaries will be given a portal to enable them renew their awards annually online."
The three students mentioned in the email by the Ghana scholarship secretariat had their scholarships renewed but had no money.
The Fourth Estate sent another email to the secretariat requesting urgent intervention on Dormuo Aloysius Namaale's tuition because he stands the "risk of being expelled from the school due to his inability to settle his tuition fees."
As it stands now if the scholarship secretariat does not settle the tuition fee of Dormuo Aloysius Namaale, a student at Victoria University in Barbados by June 7, 2023 his dream of becoming a neurosurgeon will be cut short.
Clement Kojo Acquah and Rosia Sulemana Amedome, both students in Hungary, are also awaiting funding from the secretariat to be able to buy books and other reading materials.