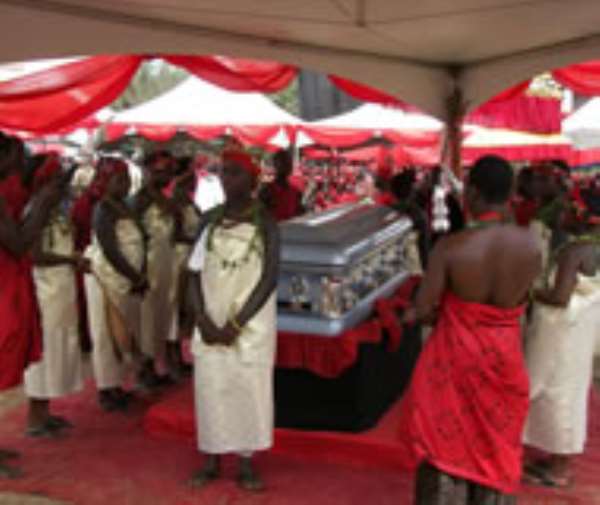 Thousands of mourners including people from all walks of life gathered at the Ga Mantse's Palace on Saturday to pay their last respects to the late king of the Gas, Nii Amugi II.
Known in private life as Simon Yarboi Yartey, Nii Amugi II was enstooled in 1965 and remained king until his death two years ago at the age of 65.
Among dignitaries who attended the day-long ceremony was Vice-President Aliu Mahama, First Lady Madam Theresa Kufuor, former President J.J. Rawlings and his former Vice-President J.E.A. Mills, as well as Greater Accra Regional Minister Sheikh I.C. Quaye, who also presented an amount of ¢500 million on Friday, on behalf of President Kufuor and the government.
Former Speaker of Parliament, Peter Ala Adjetey, Chairman of the Council of State, Professor Adzei Bekoe, Chief of Staff and Minister of Presidential Affairs Kwadwo Mpiani, Dr. Mrs Mary Grant were all in attendance.
Also in attendance were religious and traditional leaders including the Okyehene, Osagyefo Amoatia Ofori Panin II who led a retinue of his chiefs.
The Sempe Mantse, Nii Adote Obuor II, who is also the Acting President of the Ga Traditional Council sat in state.
All through the capital one could see vehicles with their occupants clad in mourning clothes and heading for the palace grounds. No other funeral was permitted in the Ga State during the period.
A ban on commercial activities imposed for Saturday was also widely observed.
Mourners attending the ceremony at the funeral grounds, at the Ga Mantse palace near the Kaneshie Polyclinic started pouring into the grounds very early in the day.
Members of the general public, dignitaries, ministers of state, representatives from the business community and members of the diplomatic corps filed in, clad in the traditional mourning cloths of red and black.
The palace itself was draped with red and black cloths all over with the centre of the square in the front of the palace reserved for the casket of the king.
Chiefs and representatives from all the clans in the Ga State adorned in their rich traditional regalia were present with their warriors engaging in vigorous traditional dances and firing musketry indiscriminately into the air.
The combination of heavy traditional drumming and bangs of musketry and its accompanying smell of gunpowder underscored the grandeur of the occasion and the stature of the deceased.
Certainly the late king's funeral, the first in sixty years, passed as the greatest display in recent history of Ga culture.