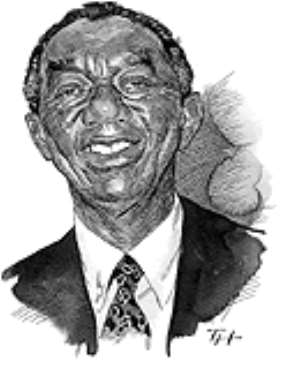 Countrymen and women, loyalists and opponents, welcome to a New Year.
As I look forward to a good year, I can't help but look back at the year past. It was a good year. But it wasn't as good as my end-of-year message to the nation sought to portray. My speechwriters put too much of a spin on the 'goodness' of the year. Yes, we had debt cancellation and/or forgiveness. We got VALCO back on stream and managed to boost cocoa production. The Black Stars qualified for the World Cup and we are hoping against hope that they will not disgrace us on the global stage.
A lot of positive things happened in the year past which I believe should impact positively on Sikaman this year. But I must say that 2005 was not a good year for me at all. It was a very bad one for my presidency. For me it was a scandalous year of omissions and commissions that could define my legacy. The year started with my ill-thought, difficult-to-explain decision to dump Ala Adjetey as the Speaker of our parliament. That single decision held up my inauguration for a second-term on the Black Star Stool – discomfiting visiting heads of state and other dignitaries who had come over the watch my 'second-coming'.
Then came the appointment of ministers of state. With my hands so tied, I had very little choice than to mostly appoint the same old faces with the same crooked minds. I knew the appointment of Anena to the Transport Ministry was indefensible. But for reasons I cannot disclose now, I was forced to make that appointment even though there was an avalanche of allegations of corruption against him. Most of those allegations were in connection with his unsanctioned browsing of the website of a young American researcher. It came up that he had been transferring huge sums of money to the lady and his illegitimate son in the US – monies he cannot claim to have legally earned. And remember what he said when he went for his approval hearing in parliament? He said that his unsanctioned bonking of the American chick has benefited out country in diverse ways. Like most of you, I knew that the man was spewing crap. But I couldn't muster the courage to revoke his appointment and he is, unfortunately, still a minister of state. Anena's continuous stay in office is often cited as a clear indication of one of my major shortcomings – my failure to observe "zero tolerance for corruption". In the year gone by several allegations of corruption were made against top government officials. These are allegations that should have been investigated but I stubbornly refused to order the necessary inquiries. I stood my ground that those making the allegations should present proof before any investigations are initiated. This position hasn't helped the campaign against corruption much and in 2005 public perception of corruption in Sikaman increased.
My commitment to combat corruption was called into question when it was suggested that I had bought a hotel for myself. That was the scandal of the year. Many questioned the ownership of "Hotel de Waawaa". This was after a certain Gizelle woman insisted that I was the owner of the property amidst claims that I had browsed her website. I have made it clear that the hotel belongs to my son.
That, for now, is the official line. I know that most of you do not believe me. I can't blame you because I have not given you any cause to believe me. I know that questions still linger about whether or not I own that property. My inability to provide credulous answers strengthened the arguments of my detractors who insist that I might be as corrupt as the corrupt government officials I refuse to sack.
Things got to a head later in the year when my own party chairman suggested that I had turned the presidency into a receptacle of kickbacks. He didn't actually mention the word "kickbacks" – but every right thinking person (who wants to be true to himself) knows Ekessu was referring to bribes. He really dealt me a big blow by accusing me of graft. Our elders say that "if the from emerges from the river with an announcement that the crocodile is dead, you cannot but believe him". So my own party chairman has given credence to the perception that my administration is very corrupt. This, indeed, is a serious blot on my presidency and I wish I could (in fact, I have to) do something to erase it.
Apart from perceiving me (and my administration) as corrupt, citizens of Sikaman have started thinking of me as a greedy and selfish president. This was evident during the public outcry over my per diem allowances. I was very happy that at long last, this issue became a subject of public debate as you questioned the payment of fat traveling allowances to me and members of the delegations I travel with. The negative side of it is that I am seriously considering abolishing the payment of per diem allowances to traveling government officials. It's a decision that could significantly curtail my personal income but I want to make the citizens realize that I seek their welfare even as I seek my own selfish ends – like building a mansion for myself. Whether you like it or not, I am going to build that mansion. When I lay the foundation stone for work to begin on the presidential mansion, I hope that I can make an announcement on whether or not I am going to ban per diem allowances.
The arrest of one of our MPs on drug trafficking charges in the US also dealt my government and my party a very devastating blow. The MP, who vehemently denies the charges, returns to court later this month to defend himself. The case against him is simple but very strong. Whether he's acquitted or not, his arrest was a major embarrassment to me and our beloved country. I hope we can make amends somehow by doing something to show the international community that we are not drug dealers. Perhaps, the Black Stars can help by winning the World Cup in Germany.
The year gone by was also a year of major screw ups. The Ghana Education Service introduced its bogus computerized school placement system which was meant to make the process of placing students in secondary schools easier. It ended up with the opposite effect. Boys were placed in girls' schools and poor parents were told that they could only send their kids to institutions in far off places to which they couldn't even afford transport fares. Up till now, as I write, hundreds of qualified students still do not have places in secondary schools and many schools have vacancies for fresh students. Did we go or did we come? The West African Examination Council also brought it own computerized confusion by introducing a new system for registering for the SSCE. The system was so screwed that even on the day the examinations were due to start many candidates had no idea about where their examination centres were supposed to be. I hope that both the GES and WAEC have learnt their lessons – as has the rest of the nation.
I look forward to a good year – it's only natural for me to do so. But I am a little pessimistic, though. If we do the same things we did last year (all talk and no action) we won't get anywhere. I know that I have promised you a "giant lift-off" but please don't expect too much of me. It is wiser for you to look down when I ask you to look up. I don't want to say "I told you so" about 12 months from now.
Excellently yours,
J. A. Fukuor [email protected] Views expressed by the author(s) do not necessarily reflect those of GhanaHomePage.