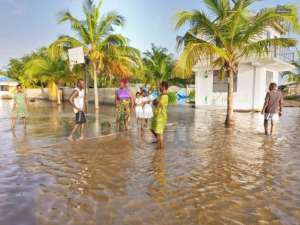 High tidal waves hit the people of Keta municipality and some coastal communities of Ghana in November 2021, flooding several inland areas such as homes, schools, places of worships, and displacing thousands of people, including children and women. Now, since April 2022, about 70 canoes, in most cases including gears and outboard motors have been damaged due to tidal waves, storm surge or floods. The devastation has destroyed livelihoods, and rendered the affected persons impoverished, and direly needing supports to earn a living. This perennial problem affects the coastline of Ghana especially in the Volta region. In order to resolve this challenge, the government of Ghana started the Keta Sea Defence project as a resilient strategy to deal with the possible impact of high tidal waves.
Link to Climate Change
Climate change continues to impact fisheries, with the Atlantic Ocean becoming increasingly treacherous, in turn making fishing expeditions dangerous in some cases, and resulting in loss of lives, and properties.
According to Prince Osisiadan, Environment, Social, and Governance Consultant, reports issued by the United Nations Intergovernmental Panel on Climate Change (IPCC) and extreme events happening in other parts of the world, suggest that the coastal flooding at Keta Municipality are likely linked to the effects of climate change.
Research examining the impact of sea-level rise on a vulnerable coastal community in Accra, Ghana likewise concluded that sea-level rise and increased storm surge activities were a result of climate change and has exacerbated the incidence of flooding in recent times.
Daniel Doku Nii Nortey is the Project Manager, Landscapes and Coastal System Dynamics at Hen Mpoano (Our Coast), a Local Coastal Non-Governmental Organization (NGO) committed to ensuring sustainable management of coastal resource and marine ecosystems. He believes that climate change is having an effect on recent coastal flooding.
Nana Kweigyah, a fisher from the South coast of Ghana also shares the conviction that recent high tidal waves, storm surges and general flooding are a result of climate change.
"Fishers are unable to go for fishing expedition due to dangerous ocean state and bad weather. The recent high tidal waves resulted in damages to canoes and other fishing gears. It has led to loss of livelihood of fishers and fish workers," he said.
The Human Factor
For Prince Osisiadan, there is strong evidence suggesting that human-caused warming has raised the rate of sea level rising.
"The Intergovernmental Panel on Climate Change (IPCC) stated in its report issued on August 07, 2021, that "the global mean sea level increased by 0.20 from 0.15 to 0.25 m between 1901 and 2018. Also, there is enough evidence to suggest that human influence was very likely the main driver of these increases," he said.
Daniel explains that the causes of coastal flood could be linked to both human and nature but he stressed more on human activities.
For instance, he noted that sand mining along the coast is intensifying, which causes coastal erosion. Again, he me motioned how human activities were destroying wetlands which served as sinks during the raining season. The waters therefore overflow to the sea, and cause flooding.
Hen Mpoano and its climate change mitigation efforts
Hen Mpoano, a local coastal Non-Governmental Organisation (NGO) is working on climate change mitigation to reduce its impact on fishing communities. Currently, the NGO is implementing a number of climate change mitigation projects from Mangrove restoration to developing a forest reserve to tree planting, among others. According to Daniel, the climate change mitigation project of the organisation is linked. He said they are regularly undertaking community sensitization to speak against bad practices and promote good practices.
"All the work we are doing here at Hen Mpoano is about climate change mitigation and they are interconnected. We are also working on reducing the impact of flooding," he stated.
Way forward/Solutions
Daniel stressed the need to end sand mining, protect and conserve wetlands, and undertake mangrove restoration because in coastal areas where there are mangroves, they serve as flood control. mangroves contribute significantly to restoration efforts and could can help mitigate flood from occurring, he added.
He also called for planting more trees and putting an end to what he described as the unnecessary burning of substances. because most of the coastal communities are in low areas, Daniel says the affected communities could move to higher ground, but insisted that nature-based solutions such as the restoration of coastal forests and protecting wetlands to serve their purpose are the best ways to forestall future occurrences.
For Prince, the fight against climate change is not the governments alone. Individual personal decisions go a long way to prevent climate change. A simple example is opting for leaves instead of plastic containers for your waakye.
The Canoe and Fishing Gear Owners Association of Ghana (CaFGOAG) is also collaborating with the Ghana Metrological Agency (GMA) and other agencies to establish early warning systems to forestall future occurrences.
For the meantime, the GMA is providing the fishers with ocean state information which, have timely information about the state of the ocean and the weather to decide when to set out for their fishing expedition.
Nana Kweigyah was delighted about the effort of the GMA saying, fishers are responding to the marine forecast.