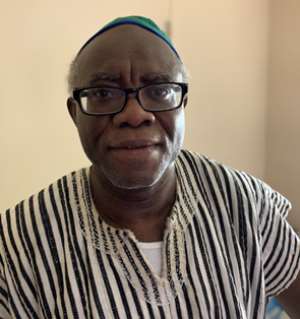 I heard about this needlessly tragic story quite a while back and thought matters would long have been resolved by now, with an effective or a definitive and a lasting solution having been found or devised for the same. This story is the far too common story of a newly delivered mother who was beset with health complications brought on by a Caesarean sectional procedure that culminated in her patently non-medical-related death. Downright murder, if the plain and unvarnished truth were to be told. In Ghana, there is this wise and common saying that "Truth is of only one kind." And yet, almost no mature adult in the country appears to be interested in the plain and unvarnished truth.
At any rate, the story at hand had to do with the inability of the deceased patient and her family's to fork upfront the relatively diddly sum of GH₵ 600, approximately $ 80 (USD), that was required by the driver from the Western Regional Ambulance Service (WR-NAS) to pay for the cost of transporting the visibly dying, newly delivered mother from Fijai Government Hospital, near the twin Western Regional Capital of Sekondi-Takoradi, to the Korle-Bu Teaching Hospital (KBTH), in Ghana's capital of Accra, a driving distance of 132 miles or 213 kilometers (See "Fuel Money Concerns Major Reason for Delay in Fijai Woman's Death – Ambulance Service Confirms" Modernghana.com 7/18/22).
An earlier version of this most needlessly tragic story had reported that the impecunious husband of the dying patient could only come up with an amount of GH₵ 50, that is, approximately $ 6 (USD). But while, indeed, this was the immediate cause of the undue delay in transporting the dying patient to the country's oldest and, to-date, best equipped civilian hospital, nevertheless, it was, practically speaking, more of the remote cause of a decidedly broken system or, more aptly speaking, the nonexistent system of fueling the country's public ambulance vehicles for such relatively long-distance journeys that directly and decidedly caused the death of the deceased post-natal patient, whose name had not been provided in the rather brief news report on which the present commentary is based.
You see, Dear Reader, a professionally functional National Ambulance System would have ensured that the patient would be swiftly transported to the nearest and most medically suitable or professionally competent recommended destination for prompt treatment without any on-spot demand for the husband and/or relatives of the dying patient to cough upfront the money needed to adequately fuel the aforesaid ambulance. Rather, there ought to already have been in existence a National Ambulance Fueling System, irrespective of whether a direly indisposed or dying patient or her/his relatives had the wherewithal to pay for the same. And then, as it is routinely done in many a civilized and advanced democratic country or political culture, a bill listing the full-cost of transporting the patient to the desired and/or recommended destination would have been sent, via mail or e-mail, or both, to the family of the patient so transported well after the fact or the execution of the direly needed help or emergency assistance.
Under the present system, which eerily and strikingly recalls the Cash-and-Carry Darwinian System of healthcare delivery that has invariably prevailed under National Democratic Congress-sponsored governments, for most of Ghana's Fourth Republic and well before, not much may be envisaged to have been done to significantly improve the country's healthcare delivery system. Which clearly makes a mockery of the importation of some 300 brand new and first-class ambulances by the Akufo-Addo Administration of the New Patriotic Party (NPP), from Germany, to significantly improve the hitherto badly aged and decrepit stock of the country's public ambulance system, which the previous National Democratic Congress-sponsored government, headed by former President John "European Airbus Payola" Dramani Mahama, did a diddly little to absolutely nothing to either significantly maintain or improve.
To be certain, as of this writing and press preparation, some cabinet appointees from the previous Mahama regime were in court answering charges regarding the criminal importation of some decrepit and engineless and patently unroadworthy vehicular hulks imported into the country from, of all places, Germany and fraudulently and propagandistically paraded as brand-new vehicles in the runup to the 2016 General Election. On the latter count, it is equally significant to note here, at least in passing, that it was his fearless and bold decision to call out reprobate and downright criminal Mahama regime in this sector of our nation's socioeconomic wellbeing that got Mr. Bernard Allotey-Jacobs, the retired Central Regional Chairman of the National Democratic Congress summarily expelled from the party several years ago.
We hope the overwhelming majority of Ghanaian voters will studiously bear this travesty of justice right up in mind as they head towards the polling booth, come December 7, 2024. For the unvarnished truth be said: Which is that well-meaning Ghanaians cannot afford another four protracted years of rank corruption, official fraud and theft and industrial regression of the kind that was excruciatingly witnessed and endured under Yagbonwura Kwame Gonja between July 25, 2012, and January 7, 2017. We have had more than enough of NDC Thuggocracy already!
*Visit my blog at: KwameOkoampaAhoofeJr
By Kwame Okoampa-Ahoofe, Jr., PhD
English Department, SUNY-Nassau
Garden City, New York
July 18, 2022
E-mail: [email protected]