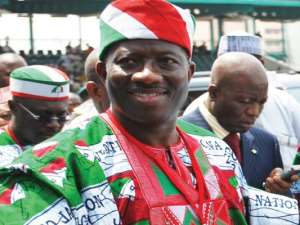 Goodluck Jonathan has the right to contest the 2023 presidential elections if the APC gives him the chance, but let Bola Tinubu and Yemi Osinbajo be treated with equity and fairness. This is my advice to the Adamu led NWC of the party and ignoring the advice of Rev Obinna Akukwe is very injurious to anyone no matter how highly placed. The records are there.
Let the process of selection be with equity, free and fair. Jonathan candidacy is better than the cabal's plot to hoist Rotimi Amechi or Emefiele on the party. If Emefiele or Amechi is imposed, the train terrorists will start killing some hostages.
I have written twice on the connection between the Kaduna train terrorists and the APC consensus plot ,. I wrote in the piece,' Kaduna Train Terrorists Working for APC Politicians' that
''These hostages will be kept for long and will be deliberately eliminated or dehumanized to spite Buhari, Adamu and the Cabals in government, unsettle their consensus arrangement during the primaries, and throw the race open to everybody "
I wrote the piece 'KadunaTrain Attacks: Aggrieved APC Candidates Hit Back at Buhari' and hinted that aggrieved APC chieftains have a proxy control over the terrorists. In the piece I noted that
"Intelligence at our disposal suggests that aggrieved APC chieftains who sensed a loss in the consensus convention used the occasion of the Abuja-Kaduna train bomb attacks to hit back at President Buhari , Chairman Adamu and Rotimi Amechi( Minister of Transportation), a supposed presidential favorite, as a warning to others like him , including Godwin Emefiele (CBN Governor), who are waiting behind the shadows, to be hoisted on the Governors through the backdoor.
Since Buhari agreed two weeks ago, to an indirect primary system, the terrorists, according to our intelligence reports, treated their captives with more empathy, providing more blankets, food and shelter to them. However, once the consensus arrangement, devoid of equity is implemented, the terrorist will show another side of their kindness.
I wish Goodluck to Jonathan's aspirations. He has acted like good sportsman since his defeat in 2015. He has constructively joined the national conversation. He has sought for peace and given a new template for electoral acceptance, something alien to Nigerian culture. He moved away from the do or die politics of Olusegun Obasanjo and Winner takes all politics of Atiku Abubakar. His regime was very disastrous in terms of corruption and security; however, I believe he has learnt his lessons.
However, let the APC primaries be fair so that Tinubu, Osinbajo and Jonathan will test their popularity. Tinubu stood for Buhari during trying times while Osinbajo have refused to leak official secrets to enemies of Buhari. Let them be treated with fairness and equity.
Rev Obinna Akukwe . a loyal party man, believes in Jonathan's right to contest, his sportsmanship, and the fact that Tinubu who contributed a lot to the growth of APC should not be treated as a leper, let there be fairness to all
(Obinna Akukwe, Cleric, Activist, [email protected] , facebook, [email protected])