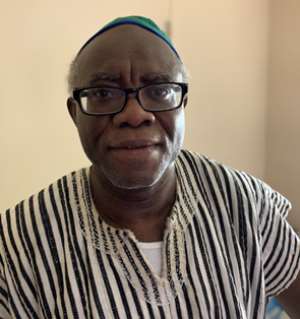 I first met Prof. Kwasi Wiredu (1931-2022), the Ghanaian-born University of South Florida philosopher and thinker whose recent passing at the age of 90 made the global academic news headlines, at the African Studies Association (ASA) Conference in Boston, Massachusetts, in 1991. The conference was held at the Best Westin Hotel in Downtown Boston. It was towards the very tail-end of that year, either in November or December, very likely in November. I did not bother to Google up for the exact date before this writing because it is not intrinsically germane to this brief memorial tribute. I was a doctoral student and a graduate fellow at Temple University, Philadelphia, Pennsylvania. I do not have my Temple University Graduate Fellowship written up on my curriculum vitae because of some bizarre professorial dealings that went on in the Department of African American Studies, presently called Department of Africology, where I was engaged in the study of African History, Literature and Culture, having also been a Ford Foundation Undergraduate Fellow at the City College of the City University of New York (CCNY of CUNY).
It was, however, my second encounter with this titan of African Philosophy and Thought that was most memorable if also because it was not very long after the publication of Prof. Anthony Kwame Appiah's iconoclastic treatise titled "In My Father's House," subtitled, "Africa in the Philosophy of Culture" (1993). For those of our readers who may not be familiar with his name and professional identity, Prof. Appiah is the globally renowned multi-award winning half-British and half-Ghanaian British-born philosopher, novelist, essayist, thinker and Cambridge University-educated scholar whose aforementioned treatise made a lot of waves around the academic world nearly 30 years ago. Both Profs. Wiredu, whose pathbreaking treatise titled "Philosophy and an African Culture" (1980) I had already been reading for a course in African Philosophical Thought at Temple, as Temple University is also popularly known, and Appiah were scheduled to present papers at the Plenary Session at the 1994 ASA Conference that was held in Toronto, Canada, and York University, Toronto, if memory serves yours truly accurately. I was then teaching African History and African American Studies and Literature at the Indiana State University, Terre Haute, Indiana, while also writing my dissertation on Twentieth-Century Ghanaian Anglophone Poetry.
As I vividly recall, another globally renowned African-born scholar, theorist, novelist and political scientist from Kenya whose acquaintance I would also make down the pike was at the conference. That luminary was, of course, Prof. Ali A. Mazrui. He was also scheduled to present a paper at the Plenary Session of the conference. These three scholars were easily the superstars of the conference. I was also presenting at one of the legions of mini-breakout sessions which no one really attended; there must have been about 500 to 1,000-plus of them. They were largely professionally decorative and meant to look good on the résumés or vitas of those of us also-runs who were about to fully embark on the long and seemingly daunting journeys of our academic careers. On this occasion, however, the focus was almost squarely on Prof. Appiah and his very controversial book which sought to caustically lambaste the evolutionary integrity of modern, postcolonial Akan culture, in particular Asante culture, as the palpably livid author envisaged the same.
The "Temple Gang" was especially irate because Prof. Appiah, then teaching at Harvard University, was widely perceived to be a prominent member and a key operative of the contumelious "Gatesian Gang" of Eurocentric Anti-African Africanists, who nihilistically hewed to the sardonic tune of the Neocolonialist Afropeans, that is, the Oreo Cookies of the Academy. I was particularly looking forward to engaging Prof. Wiredu during the Questions-and-Answers period that immediately followed these plenary presentations because the author of "In My Father's House" had mentioned him as his mentor and an intimate friend of his father's, that is, the legendary lawyer-politician, Mr. Joseph "Joe" Appiah. I avidly looked forward to engaging Prof. Wiredu in a brief exchange because I wanted to know why the elderly avuncular scholar had not gone on record to correct some of the logical infelicities of Prof. Appiah's bestselling and award-winning book, which several of my graduate classmates and seniors had purchased were busy reading and preparing our own equally caustic critiques.
Prof. Wiredu, as we had all anticipated, finally appeared at the ASA conference, took the podium with deliberate and regal splendor and gave his putatively and characteristically masterful presentation on Akan Philosophy and Culture, and how the latter comparatively interfaced with its more extensively propagated and globally dominant Western imperialist counterpart. It has been so long ago that I don't remember much else from Prof. Wiredu's presentation, except the fact that his presentation was well received with a standing ovation. Well, when it got to my turn to ask him a question, I demanded to know why Prof. Wiredu had not taken Prof. Appiah aside, figuratively speaking, and given him a sound lecture on how not to do African Philosophy, especially where respect for one's patrimony or paternal heritage was concerned. I would also have a prime opportunity to pepper Prof. Appiah with a question or two, largely framed out of my utter displeasure.
Anyway, what impressed me most about these two scholars was their systematic poise and good-natured demeanor even under torrents of querulous questions. On second thoughts, I realize that I may actually be conflating my encounters with both Profs. Wiredu and Appiah, now that I am beginning to get a much clearer picture of events, which means that I may very well be recounting events from both the 1991 ASA conference in Boston and the 1994 conference in Toronto, Canada, where I had also presented and attended the plenary sessions. Whatever be the case, I also remember telling Prof. Wiredu that I knew another Prof. Wiredu at my old school, that is, The City College of New York. Well, it is often said that we live in a very small world. Guess what, Dear Reader? I would learn that both the recently deceased Prof. Wiredu and the one that I knew at City College, who had also been my teacher and my mentor, were playmates and classmates from Kumasi who grew up together at Ahenboboano (Manhyia Palace?) and attended the University of Ghana in the early stages of its establishment together.
Along the line, City College's Prof. Wiredu had opted to study at Harvard University Graduate School of Education, while his bosom friend – many of their neighbors and contemporaries perceived them to be siblings – had gone to Oxford University to pursue his graduate studies in Philosophy. These days in Ghana, my City College's Prof. Wiredu is better known by the fact that his younger brother was once the Minister for Education. I suspect this was during the tenure of President "Gentle Giant" Agyekum-Kufuor. Ultimately, the good news here is that Prof. Kwasi Wiredu, the genius Philosopher, lived a long and knowledge-gravid life and his legacy is apt to live long after his quietus. In Egypto-Imhoteppian terms, a well-examined and an exemplary and richly lived life. So long, Obenfo Wiredu!
*Visit my blog at: KwameOkoampaAhoofeJr
By Kwame Okoampa-Ahoofe, Jr., PhD
English Department, SUNY-Nassau
Garden City, New York
January 16, 2022
E-mail: [email protected]