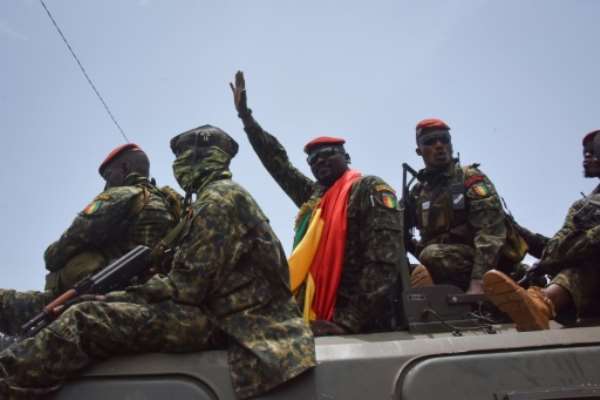 Coup leader Lieutenant Colonel Mamady Doumbouya, centre, waving to the crowd as he arrived at parliament on Monday for a meeting with outgoing ministers. By CELLOU BINANI (AFP)
Coup is illegal and undemocratic. I condemn coup d'état with all its associated plots and crimes. Coup exposes our country and continent to tyranny and insurgents. I condemn the successful coup in Chad, Mali, and Guinea. Coup d'état is the last and final notion in selective leadership but if the greed and corrupt African leaders calls for their own removal by showing worse leadership and making laws to suppress the citizens of the continent then the people rejoices when there is coup to overthrow a misleader.
But if coup d'état would give us extremely absolute good leadership that Africa is lacking, leadership that would harness our resources and give our people good living standard and provide robust Economic growth and freedom, housing, good road networks and good drinking water then it must be done to liberate Africa.
If coup would give us freedom, then we need more coups in African.
If coup would industrialize Africa, reduce unemployment, abrogate imports and growth our economy then I support coup.
If coup would bring equity, transparency and break the gap between the poor and rich then is a good thing.
If coup would give us good leadership, then we need this coup.
lf coup would end corruption and protect the public purse and resources then we must seek for it now.
If coup would end unemployment and corruption at the employment sector, then coup must reign.
If coup would relinquish loot and share, family, and friends then we embrace it.
If coup would take away flawed constitution of African nations and replace it with a constitution of the people, then we love coup.
If coup would protect the masses rather than the elite elites in political class, then we invite coup.
If coup would bar embezzlement, mismanagement and spree borrowing then we are hungry for it.
Its coup would end press censorship and political instability and apartheid then we hope for it.
If coup would floor double standard and ethnicity, then may coup never stop till there is total emancipation of Africa.
If coup would unite Africa, then coup must happen everywhere in the continent.
If coup would remove the frontiers in Africa, then coup is good for Africa.
If coup would protect and enforce our insecurities and give us peace, then we welcome it.
If coup would preserve and manage our resources to benefits all then coup is welcomed.
If coup would take away poverty and sufferings, then we are yearning for it.
If coup would take diseases, develop, and transform Africa then is the people's wish.
If coup would give us quality education and improve Agriculture, free and quality health care then let's rejoice as it unfolds in the continent.
If coup would remove puppets and neocolonialism from Africa, then let it happen NOW!
If coup would give Africa one president, one currency and one economy then it should happen.
If coup would give us democracy and allow us to elect our leaders with transparency without any blemish and monetization, then we need it NOW!
Africa is bleeding, mourning and thirsty for total leadership overhaul and REVOLUTION. The Revolution that would stabilize and sanitize Africa and make her an abode for prosperity, wealth creation and rapid development, to give her a new hope of unity and progress.
Africa breeds corrupt leaders, plunderers, thieves, and insensitive leaders who loot without pity. It is time for Africa to arise and fight for the collective.
I invite coup to heal Africa and bring transformation to its citizens if coup mean well for the total freedoms and justice for Africa. Arise all freedom fighters in the revolution Africa is calling.
Article by Fighter Anthony AKudago
Deputy President, Economic Freedom Fighters of Ghana.
Email @ [email protected]