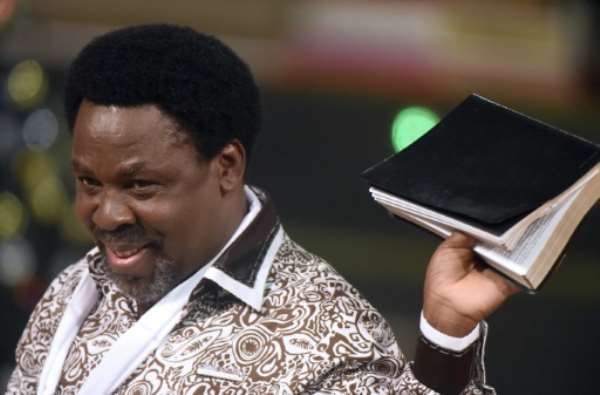 The whole wide world woke to the petrifying issue that Prophet T. B. Joshua has gone to the land of timelessness. Could it be true, or the usual social media craze? Thousand questions run through my poetic mind. There was no need searching for answers because only God could answer. His lovers quickly were swallowed by utter shock. Rain of tears started snaking down the eyes of those who have known and cherished the man. For his enemies, it was an opportunity for them to subject his death to several spiritual theories. I believe not even the prophet himself was aware he was going to die. My write up is not to raise questions but as a writer taught once upon a time by once upon a time anatomy lover, Beauty Aglah, I am only here to carve out some of the lessons from his life and death.
1. At the end of it all, it is not the years of your life that matters but the life of your years. This means, a person may live 30 years and that thirty years may be impactful than someone who live hundred years. It is good if we are given old age but what is important is that we have to make impact while we live.
2. Why is the world and especially the religious fraternity mourning, T. B. Joshua? Simple, the impact he made to those who saw what was in him.
3. From T.B. Joshua, we learn a life of simplicity. Never in my study and research of religious leaders this day and age have I come across the simplicity of T.B. Joshua and Ghana's Akwasi Awuah. His outfit depicts a man of simplicity when the latter-day prophets are chasing money and expensive outfits, he exemplifies the eternity in humanity.
4. In Prophet T.B. Joshua we learnt a life of focus. This is a man who in spite of all the criticism level against him by local and international media as well as many colleagues in the prophetic and religious arena remained focus. When the issue about his collapsed building that killed some people came to the scene, he remained focus. Even when his prophecies about the US 2016 elections and the June 27, 2020, coronavirus shall seize did not come to pass, he remained focused. The greatest locus to a successful life is to have focus.
5. The death of T.B.Joshua tells us of the mortality of mortal man. Psalm 9:20 tells us, that the nations may know that but they are mere men. His death makes it crystal clear that men are we and men we will always be. In His own words when Atta Mills died in 2012, the prophet told us, "God hid it from me" Indeed concerning his own death, the Lord hid it from us for us to know that we are mere men. The transience of life to help us to know that we have a trip to make, a trip which we will be blind of, but which will elicit tears from our loved ones.
6. The prophets shall go, the God live. From his demise that raises more questions than answers, we, the living, must draw closer to God more than I draw towards our prophets. The prophet himself was attached to God but today we are more attached to our prophets. If we do not get so much to God, we will wake up and our prophets, the mirror, in whom we see ourselves will be gone. As I listened to the tears of Ayitey Powers, a true son of the prophet, who to and from Nigeria, I understood the need-to-know God more than a religious leader.
7. As I am writing this epistle, am in unending tears. I am in tears not because of the prophet's demise though that's painful. My tears are as a result of what happens to the Synagogue Church of All Nations (SCOAN). Across the globe, there are few global religious leaders whose death do not have much impact on their founded ministry. In a religious dynastic church, like we mostly have, the founder dies with the ministry. Where is Resurrection Power and Living Bread Ministry after the death of the famous Ghanaian prophet in the late 90s and early 2000s, Osofo Amoako? Where is the Bahamas Faith Ministry after the death of world great speaker, Dr. Myles Munroe in 2014? So, the question is, will the senior prophet, T.B. Joshua goes with his ministry or succession will prevail? Time will certainly be the judge of us all.
8. To the world, I present to you the biography of a man who was a paragon of humility. But to the young prophets of this day and age who talks and behave as if they are demigods, take clue from the life and demise of the simplistic T.B. Joshua. Fare thee well Sir, death has never been fair.
In tears, we learn the rest of our years.