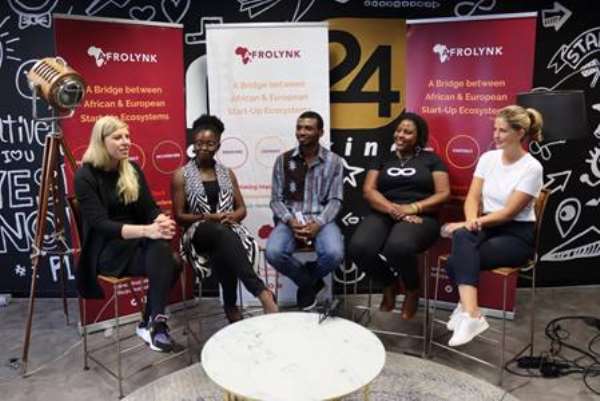 Afrolynk recently held its annual conference which kicked off with Africa Week and culminated in the Grand Conference.
The premium platform that connects the African and European startup ecosystems to shine a light on innovation and tech entrepreneurship in Africa was held virtually for the first time in its five-year history, bringing together attendees from five different continents and more than 20 African countries, with hundreds of viewers following via the social media live stream.
In the days leading up to the conference, 45 startups from around the continent participated in the Africa Week programme, highlights of which included Berlin Africa Day, networking sessions, mentor meetings and the startup exhibition which saw participants showcasing their businesses on the conference exhibition platform.
During the Berlin Africa Day, hosted in collaboration with Berlin Partner, two talks were given – Berlin goes Africa - How to do Business in Africa and Africa goes Berlin - How to do Business in Berlin. During the first session, aimed at encouraging Germans to explore the opportunities that await on the continent, Jessica Berlin, Founder of CoStruct, said: "Germany has been missing out and is behind the trend. European engagement on the continent is not and should not be just about development anymore - that ship has long sailed. The continent is full of tech companies and innovators and it is booming."
The second session saw panellists speaking about the opportunities that Berlin presents to African startups, with Faye Freyschmidt, Project Manager at Berlin Partner, sharing that the German capital offers top international talent, good infrastructure and a stable political and economic environment. She also informed the audience of the various programmes and loans available to and tailored for startups. As the founder of a Cameroon startup that is now operating in Europe, Alexandra Ngandeu wants to change the way people look at Africa. "We want to show the world that Africans are making high quality products."
The Conference itself featured speakers and panellists from different regions and areas of expertise coming together to discuss how to innovate and create resilience, how to connect and build enabling partnerships, and how to accelerate and grow even in challenging times.
Opening the event, Dr. Maria Flachsbarth, Parliamentary State Secretary to the Federal Minister for Economic Cooperation and Development, said: "Afrolynk has contributed to a vibrant startup ecosystem, connecting Europeans and Africans. You have highlighted the potential of both and have brought the question of how to support African entrepreneurs on to the political agenda."
In the Changemaker Talk titled 'Walking the Talk - Voices from the Ground', Dorothy Gordon, Chair of the UNESCO Information for All Programme, stated: "In Africa, we are 1.2 million people today and we're going to be 1.7 billion people very soon, but if you look at the fact that 40% of the world's population under the age of 18 is going to be African by 2050, I think we have to pay attention to our market. This year, Africans really woke up to their market because other markets were no longer available as everybody had to shelter in place. Africans had to look within, but because we have a business environment comprised of 55 member states of the African Union and the African Continental Free Trade Area, we now have the world's largest market in the making."
In addition to keynotes, virtual networking sessions, startup exhibition tours and stories from famous African entrepreneurs such as Vusi Thembekwayo, Founding CEO of MyGrowthFund and IC Knowledge Bureau, and Iyinoluwa Aboyeji, Co-Founder of Andela and Flutterwave, the conference's three panel discussions proved popular amongst attendees.
During the panel which tackled the topic of Connect Africa: Fair Partnerships - Unleashing Africa's Potential, participants unpacked how stakeholders can better work together on the African and European continents and how to develop tools and mechanisms that can strengthen that relationship and make it fair and better for everyone involved.
Moderated by Sannssi Cissé, Head of Collaboration at the GreenTec Capital Africa Foundation; the panellists included Erick Yong, CEO and Co-Founder of GreenTec Capital Partners; Youssouf Diakite, Founder and Co-Chairperson of the African Diaspora Youth Forum in Europe; RosaLyn Dressman, President of African Tide; and Stephan-Eloïse Gras, Executive Director of Digital Africa. On why the relationship between the two continents needs to change from that of their colonial past, Dressman said: "We have all seen what the pandemic has brought, it has destabilised markets in both Europe and Africa. If we don't do anything tangible to move forward, we will be lagging behind."
Bringing the celebration of African innovation to a close was the announcement of the Top 50 Impact Startups who contribute to the realisation of the United Nations' Sustainable Development Goals and the African Development Bank High 5s, especially in the areas of health, fintech, agriculture, logistics and distribution, digitalisation and education.
"After months of preparation and planning, we are proud to have hosted an exciting and successful first virtual Afrolynk conference to celebrate our fifth anniversary. We are thrilled to have had such a diverse audience from all over the world who are looking to African startups for their innovations. We now look forward to hearing about the partnerships and success stories that have emerged from our event," concludes Afrolynk Founder, Moses Acquah.
For more information, go to https://afrolynk.com.