Garu-Tempane, A Hotspot [Part 2]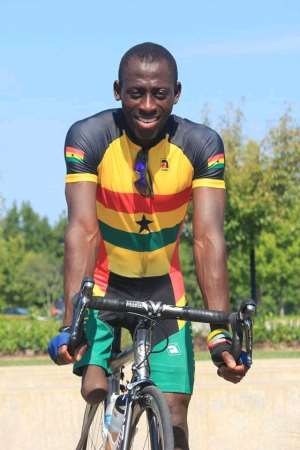 Alem Mumuni
Despite all the problems hindering the production of talents in Garu-Tempane, more footballers with enormous talents are waiting to be the next Mohammed Fatawus, Anyagri Saviours, Bukari Abdul Sameds, Akudugu Inusahs, Ayamba Augustinas, Ibrahim Fatis, et al.
The passionate nature of people from this locality is a clear testament of the calibre of sportsmen and women produced. This extends to other fields like education, politics, religion, entertainment and farming. Seven out of every ten kids on the streets of Garu and Tempane can comfortably demonstrate basic skills in football.But it will interest you to know that football hasn't been the only sport excellence has been attained in the area as our passionate nature has made us try as many sports as possible.
Do you know that The Legendary paracyclist Alem Mumuni is from Garu? He is from Saligo, a suburb of Garu in the Garu District. He attended Garu DA Primary and Garu Catholic JSS now JHS. His secondary education was in Nalerigu Senior Secondary. Alem is the first Ghanaian cyclist in history to compete at World Championships and The Olympic Games notably London 2012 and Rio 2016. He was UCI African Paracycling Champion for three consecutive years;2009,2010 and 2011 and many more medals. His scintillating performance for mother Ghana can not be denied. But how it all started? Alem did not attend any special school as some disabled nowadays. He never had any inspiration or motivation to do what he is doing today. Why am I saying this? Alem was never allowed to represent his school because they wanted to win hence couldn't risk him into the team. He will always come to exhibit his talents in high jump, long jump etc with his white walking stick before the abled ones commence. This bouncebackability in him is what took him to the pinnacle of the world. He will always play football with his abled colleagues, tackling and inviting tackles without fear. Remember this was not the computer age. Social media was still sacking breast milk and advocation for EQUALITY for People With Disability was still in its mother's womb. What was the secret? Mental strength. With all the segregation and mockery associated with disability these days, Alem defied all odds to make it in life. Today, Ghana's history of cycling isn't the same without him.
Athletics is where the land has distinguished herself as the best in the Upper East Region of Ghana, long distance to be precise. Long distance is where there are significant figures that widen the gap in any athletics competition within the region and beyond. Sakat Lariba and Azure Elizabeth are two musketeers as far as long distance is concerned in Ghana with Kombat Hawa and co also becoming household names in the middle distance races.
Sakat Lariba holds the record for Milo Marathon in Ghana, running a time of 2:42:12 in a 42.2km race on the 21-09-15 in Accra. She did it as an innocent teenager without the amenities that accompany the production of an athlete of such calibre, beating many top athletes from Kenya and other African countries. She hails from Tubong in the Tempane District but left to Bolgatanga to stay with Mr Afelbik who is the current Headmaster for Bolgatanga Senior High School to be groomed into an elite athlete. She went on to complete the same school many years after. She gave many other young ones the right to dream.
Another celebrated daughter of the land of Ghana is Azure Elizabeth from Tempane. She hails from Adomeabra, the heart of Tempane township. She attended Tempane Primary and JHS until she left to Navrongo to continue her develop after a scout spotted her during the biennial Upper East Basic Schools Sports and Games Festival. She then goes on to attend St. John Boscos JHS, Navrongo SHS, UDS before joining the Ghana Armed Forces last year. She was the gold medalist for 2016 Millennium marathon edition, running a 42km race at a time of 2:22::46 and the gold medalist of the 2018 edition too, which started and ended at the Black Star Square in Accra. She also holds the record for 5000m at a time of 43656seconds in the 2018 edition of GUSA Games in Tamale University for Development Studies campus. She is a proud daughter of Tempane.
You will all bear me out that, Garu-Tempane is a talent hotspot that needs much attention. Lariba and Azure will tell you there were better talents who never got to the top before them and many more after them because they never got the chance they had .Apart from amenities, we need sponsorship. Can stakeholders arise and hear our cry? Sponsorship to train up Personalities like us who can tap and nurture these young ones for mother Ghana. Sponsorship to organize regular competitions for kids to show their talents. What is my SURE BET? Garu-Tempane is the current Champions of Upper East in U15 Boys Soccer and U15 Girls volleyball ( a retained trophy) last two years in Sandema. Silver medalist in Girls Soccer. We did this without any juvenile Sports association existing. None of such ever existed. No juvenile league and only 3 structured juvenile football clubs, with the rest still emerging. With a little push, we can do the unthinkable. I call upon government, GFA, RFA, Ministry of Youth and Sports, NGOs, international organizations, Academies, Big Clubs and individuals to come to our rescue. You will be proud of your intervention. God Bless Our Homeland Ghana.