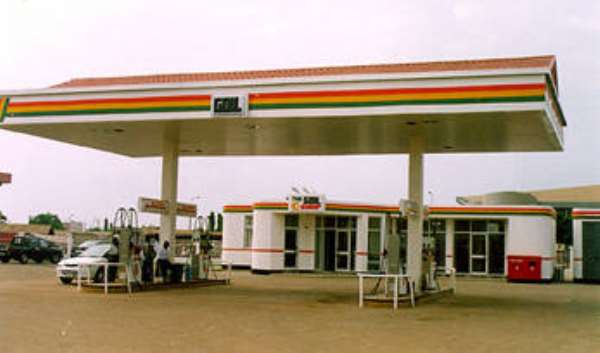 New prices of petroleum products will be on display at the various fuel filling stations throughout the country from 6.00pm today. Premium petrol, which currently sells at ¢40,000 per gallon, is expected to sell at between ¢35,000 and ¢35,200.
Daily Graphic sources within the energy sector revealed that Liquefied Petroleum Gas (LPG), which sold at ¢100,000 per 14.5 killograme-size cylinder, will drop slightly to ¢98,000. The reduction comes in the wake of falling crude oil prices on the international market as a result of the relative stability in the Middle East, among others.
The reduction is the first significant downward adjustment in the prices of the products since the final phase of the deregulation of the petroleum sector began early this year. The last phase of the deregulation exercise was intended to see the private sector dictating the prices of the products according to crude oil prices on the international market.
Since the prices of crude oil began their downward slide about two months ago, many Ghanaians, including politicians and civil society groups, have advocated a reduction in the prices of petroleum products to reflect the changes.
But the National Petroleum Authority (NPA) explained that the prices could not be reduced because the stock at the Tema Oil Refinery (TOR) had not gone down to allow the refinery to order new stock at the current prices on the market. The retailers were picking 13.5 million litres of premium per week but this has dropped to 11 million litres.
For gasoline, it was 22 million litres per week but that has also fallen to 19 million litres per week. The oil marketing companies (OMCs) top up the requirement of TOR by only 30 per cent, but until they are asked to do so, they will be unable to tender.
However, the sources said the NPA prevailed on the retailers to do their normal picking to allow the refinery to request new cargo. The price of BBQ and Light Crude hit an all-time high of $79 a barrel in the first and second quarters of the year but since last month it has dropped significantly to $61.67 per barrel for BBQ. It was selling at $62.10 as of Friday, September 22, 2006 (source: Associated Press).
There is, however, no word as to whether the government is going to call for the restoration of the ad valorem tax on petroleum products which was scrapped to give some respite to consumers of fuel when fuel prices hit their highest levels in the country's history.