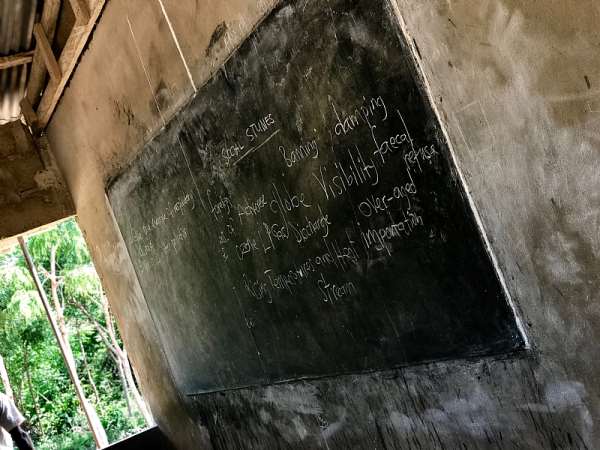 Ethnocentric nonsense
I am going to go there—Yes, I am going to have to make Ewe jokes to get this point across. "Do you know why Ewes are brilliant?" Waiting for no response from me, he answered his own question: "Because of their monstrous names!" Sensing that perhaps 'monstrous' wasn't the right word, he went on explaining his joke—hence killing it. You have heard this joke before, I need not explain it to you, but this colleague of mine did to me. He said, "Because their names are hard to spell—if a child has the burden of spelling such names at such young age, you can bet that such a child will grow up smart."
I saw this one on my WhatsApp status the other day: "In Every Ghanaian school, Ewes like Maths and Science; Fantes like English, _ and _ like break-time" (fill in the gaps. And yes, one of those gaps is 'Gas').
Some years ago, a project targeted at women, youth and children of the deprived parts of the country sent me to Aflao. Taking down the names of the participants of the project I was to find, that the Voltarian supposed illiterate holds a PhD when it comes to the spelling of their names, and I sitting there supposed to be the educated one, was schooled on these spellings. I belong to all the ethnic groups in the country—I can make jokes. But if you have sat in class with these Ewe folks before, you can deliver more accurate jokes.
Education—no, quality education
With the 'A LACK OF SELF RESPECT' series, we concluded: a nation is only as good as its human resource capital. This is particularly true in this era the world has couched for itself, or more accurately so, has evolved into—the Information Age, the highly industrialised, highly Globalised Age. Coming before this, was a tortuous journey through the ages, like the pre-historic era where society was built on manpower—literally, on the strength of its inhabitants' muscles. In this new age of ours, the brain rules all, making education the most vital tool in nations' toolsheds.
In my incipient journey of navigating various rural areas—the remotest of villages, I have come to find that the Ghanaian, even the most disconnected, the most unlearned, does not need convincing as to the importance of education. So then, you, reading, surely do not need convincing. I am going to save you the trouble.
However, when it comes to the issue of 'quality education', we do need, it seems, constant reminders of the importance thereof. We need constant reminders of the urgency of this matter—the provision of quality education. We need this reminder, for we bizarrely consistently dump this very important national issue into the vast hodgepodge of political mess—unnecessary political debates and disagreements.
Rural/urban disparities
Education is not a political plaything; despite my opening ethnocentric joke, education is definitely not an ethnic issue. However, I am going to ride this Ewe example still, to make a point. Because for years, in every national rankings/surveys pertaining to academic performances in the country—be it at primary level, junior high, or senior high level, the Volta Region (the then-Volta Region), with its supposed camp of brilliant people, has consistently ranked at the bottom. Another such brilliant bunch, finding its place at the bottom of the barrel: the Northern Region (the then-Northern Region). And the Greater Accra Region—with its supposed love for 'break time', if the aforementioned joke be believed, is always atop these lists.
Now, if I may shed this ethnocentric nonsense—this perhaps failed attempt at analogy, what this highlights is an overall national economic/socio-economic disparities—and rural/urban disparities in education.
Urban centre students are consistently doing better than their counterparts in the rural areas. This is so because the former has it better than the latter. This is so because economic/socio-economic disparities between rural and urban centres directly influence their educational outcomes. To put it bluntly: the rich child is 'outsmarting' the poor child—yet another arrow in 'money's' quiver.
The National Education Assessment (NEA), since its institution in 2005, has found this fact unchanging. The sub-agency instituted under the Ghana Education Service, with the mandate to measure, in every two years, competency in English and Maths at the primary school level has consistently found city children at an advantage over their village counterparts. And this can be expected, can it not? With the endemic lack of infrastructure, lack of educational wherewithal, lack of supervision, unmotivated teaching staff (the rural teacher has it badly), etc., it comes as no shock that villages would fare this poorly in their bid at knowledge impaction and acquisition.
The rural child has it badly. While their counterparts in urban centres—particularly, in privileged urban centres come home from school to 'extra-classes', to a life of a child—one not plagued with part-time jobs of farming, hawking, keeping the home together, etc., the rural student-child comes back from school (school which barely qualifies as school) to a whole burden of adulthood. With these economic and socio-economic realities, there is bound to be disparities.
The rural child runs short on dreams—they dream in reality. While their city counterparts go wildly with their aspirations, the village child, this child forced into adulthood, this child devoid of childlike wonder, is forced into seeing the stark reality of their existence. They are forced into seeing the world only as presented to them by their communities. The rural child has a limited worldview. "What do you want to be?" I asked a village boy. "I want to be a taxi driver…" pause "…because my father says so." "So then, what do you really want to be?" Long pause. "I want to be an engineer," he says gingerly—as though daring to dream outside the life he knows is a sin.
Aspiring to English
"I want to be learning the English." In broken English, that is the response of a large number of rural students I have spoken to, to the question of their aspirations… (I am going to pull a 'The Sopranos' and end this article mid-sentence. More on that next week.)
Now back to a matter of grave national importance: I am first to dismiss biological explanations for societal phenomena, so I am going to do so now, and choose not to dismiss the explanation given in the first joke—the one about Ewe 'gargantuan' names (Daily Guide, can I say gargantuan here?) being the cause of the supposed Ewe sharp brains. Can a social scientist do the country the honour of finding out the validity of this assertion? Because if this comes out substantive, we could all use the names: Butsormekpor, Edrorlali, Edzordzinami, Morkporkpor, Vornamegbetor—did I spell them right?
BY YAO AFRA YAO