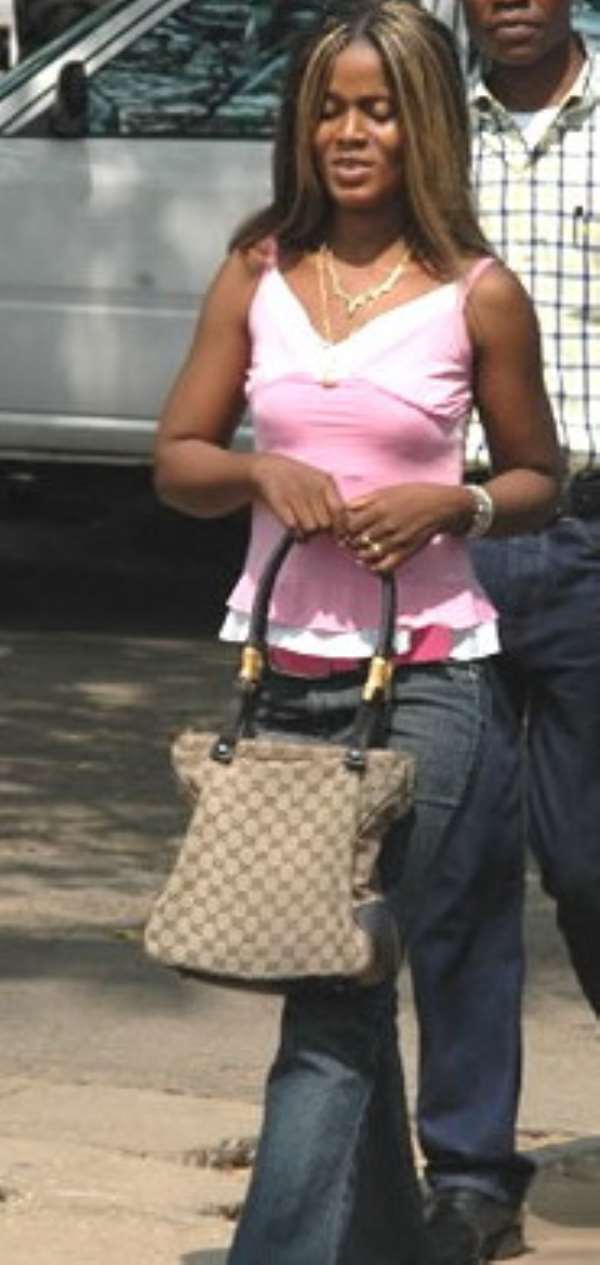 Grace Asibi a star witness at Justice Georgina Woode Committee investigating the alleged cocaine case.pics by courtesy of mjol
THE Justice Wood Committee yesterday ended its hearing of the cocaine bribery case between Superintendent Edward Tabiri and Grace Asibi, girlfriend of the fugitive East Legon cocaine baron, Gerardo Vasquez.
This was after four weeks of evidence and cross-examinations at the sittings of the committee investigating allegations of bribery that Asibi had levelled against Supt. Tabiri, saying he had taken 200,000 dollars from her to drop a case involving the seizure of a quantity of cocaine in the house of her boyfriend, Vasquez, now at large.
Before discharging the two witnesses, Justice Wood asked them to submit written statement as to why their respective testimonies should be taken as the truth and believed as such.
During the final cross-examination by James Abiaduka, counsel for Asibi, Supt Tabiri maintained that Asibi was an informant.
"I have known her as an informant and treated her as such since the first day I got to know her," Supt. Tabiri stated in response to a suggestion by Asibi's counsel that she was not an informant.
Asked what made him consider Asibi as an informant, Supt. Tabiri said that Asibi told him on the day on the raid of the East Legon house that she was the informant.
Apart from that, he said Asibi provided information about the office and travel documents of Vasquez.
Meanwhile, the case between Asibi and ACP Patrick Ampewuah, Deputy Director of Police CID, continues.
Asibi has accused ACP Ampewuah of threatening her with death on telephone following her disclosure of the bribery issue to the media.
She has tendered in a recording of the alleged telephone conversation during which she said threats were issued, but ACP Ampewuah has denied ever calling her. He also denied that his was the voice on the tape.