Fathers Role Must Not Be Undermined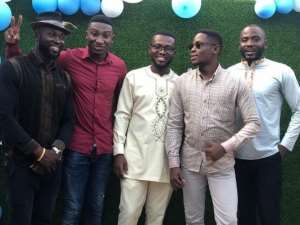 I know you have read a lot of articles and write ups on this particular headline. But I just want to add a little to what have been written and put across.
Father's play critical role in the development and upbringing of children. These roles must not and should not be undermined.
On February 8, 2006, President Bush signed the Deficit Reduction Act of 2005 into law. The new law provides $150 million for each Federal fiscal years through 2010 to promote and support healthy marriages and responsible fatherhood. The funds was awarded as a competitive grants to government's entities, fund-based organizations and community organizations.
The bible categorically states who a father must be and what a father should do. And I believe that it should be the only place as fathers and potential fathers, we can take great inspirations from. Also it is important to look to God's word to see the perfect example of what a father should be, to be encouraged to work towards being more likely like your heavenly father.
Let's look at what it means to be a father and the role of a father according to the Holy Book. A father's role in the family is a pivotal one. He is called upon to be a leader and a protector for the family, to give an example of Christ's love by being loving towards the children's mother. He must also be strong in faith and to bring the children up knowing right from wrong.
Ephesians 5:25-37 Husbands, love your wives, just as Christ loved the church and gave himself up for her to make her holy, cleansing her by the washing with water through the word, and to present her to himself as a radiant church, without stain or wrinkle or any other blemish, but holy and blameless. In this same way, husbands ought to love their wives as their own bodies. He who loves his wife loves himself. After all, no one ever hated their own body, but they feed and care for their body, just as Christ does the church—for we are members of his body. "For this reason a man will leave his father and mother and be united to his wife, and the two will become one flesh." This is a profound mystery—but I am talking about Christ and the church. However, each one of you also must love his wife as he loves himself, and the wife must respect her husband.
Genesis 18:19 For I have chosen him, so that he will direct his children and his household after him to keep the way of the Lord by doing what is right and just, so that the Lord will bring about for Abraham what he has promised him.
Deuteronomy 6:6-9 These commandments that I give you today are to be on your hearts. Impress them on your children. Talk about them when you sit at home and when you walk along the road, when you lie down and when you get up. Tie them as symbols on your hands and bind them on your foreheads. Write them on the doorframes of your houses and on your gates.
Ephesians 6:4 Fathers, do not provoke your children to anger, but bring them up in the discipline and instruction of the Lord.
Hebrews 12:7 It is for discipline that you endure; God deals with you as with sons; for what son is there whom his father does not discipline?
Colossians 3:21 Fathers, do not provoke or irritate or exasperate your children [with demands that are trivial or unreasonable or humiliating or abusive; nor by favoritism or indifference; treat them tenderly with lovingkindness], so they will not lose heart and become discouraged or unmotivated [with their spirits broken].
The bible also says, God created us in His own image and likeness. If as Christians we believe this is true. Then the one who created us knows us better. Better than any human being on this earth, better than our bosses, better than our friends, better than our sources of inspiration. And even better than the books we read on fatherhood.
While Islam also recognizes the general idea of who and what a father must be or do, over a period of time, human beings are considered as a special act of creation. Islam teaches that human beings are a unique life form that was created by Allah in a special way, with unique gifts and abilities.
While both religions identify with the fact that, there is something special about us, our role then must be of interest to all and all. One aspect of the family system that has received increasing attention from researchers is fathers' involvement in raising their children ( Marsiglio, Amato, Day, & Lamb, 2000 ). This interest in fathers has emerged for several reasons, including changes that have taken place in the expected roles of fathers across many societies. Today's fathers are increasingly expected to sharing parenting responsibilities more equally with mothers ( Pleck & Pleck, 1997 ). However, although father involvement has shown modest increases over the last several decades, fathers continue to spend significantly less time than mothers caring for children ( Hofferth, Pleck, Stueve, Bianchi, & Sayer, 2002 ; Pleck & Masciadrelli, 2004 ).
Such discrepancies between ideals and reality have fueled fathering research, especially as research evidence continues to support the benefits for children of involved fathering ( Pleck & Masciadrelli, 2004 ). Children of highly involved fathers show greater cognitive competence and academic achievement ( Flouri & Buchanan, 2004 ; McBride, Schoppe-Sullivan, & Ho, 2005 ), have higher self-esteem ( Amato, 1994 ; Deutsch, Servis, & Payne, 2001 ), fewer behavior problems ( Flouri & Buchanan, 2003 ; Mosley & Thomson, 1995 ), and greater social competence with peers and siblings ( Parke et al., 2002 ; Volling & Belsky, 1992 ).
An influential model of father involvement was outlined by Lamb, Pleck, Charnov, and Levine (1987) , who conceptualized three types of involvement:
Accessibility (parent is physically and psychologically available to child)
Interaction/engagement (parent participates with child in one-on-one activity)
Responsibility (parent assumes responsibility for care of child). Subsequent research supports the notion that father involvement is a multidimensional construct, likely encompassing both indirect forms of involvement such as financial providing and cognitive monitoring as well as direct forms that include caregiving and play (Hawkins & Palkovitz, 1999; Schoppe-Sullivan, McBride, & Ho, 2004). Not surprisingly, developmentally appropriate positive interaction/engagement (i.e., quality of father involvement) confers greater benefits to children than simple accessibility or responsibility (i.e., quantity of father involvement; Marsiglio et al., 2000; Pleck & Masciadrelli, 2004); however, multiple forms of involvement may lay the groundwork for the establishment of enduring father-child relationships (Lewis & Lamb, 2003).
In attempting to understand and test the parents' beliefs, it is important to take the type of father involvement into account. Father's involvement include caregiving activities and involvement in play activities.
Caregiving activities involves father's involvement in maternal related activities such as preparing meal and changing diapers for the child etc.
Play activities includes activities such as physical play and play with toys. Children with involved fathers have better educational outcomes. Studies suggest fathers who are involved, nurturing and playful with their infants have children with higher IQs as well as better linguistic and cognitive capacities. Toddlers with involved fathers go on to start school with higher levels of academic readiness. They are more patient and can handle the stress and frustrations associated with schooling.
However, it is also important to consider the opposite: that greater father involvement may lead to more disagreements between parents surrounding parenting issues.
Father's involvement and relationship fosters high functioning family relationship that plays a critical role in children's positive development. Also the presence of father's in the home is tied to lower rates of maltreatment. A father who has a good relationship with the mother of their children is more likely to be involved and to spend time with their children and to have children who are psychologically ad emotionally healthy.
Even from birth, children who have an involved father are more likely to be emotionally secure, be confident to explore their surrounding and as they grow older, they have better social connection with peers. These children are also less likely to get into trouble at home, school or even in the neighborhood. The way fathers play with their children also has an important impact on a child's emotional and social development. Fathers spend a much higher percentage of their one-on-one interaction with infants and preschoolers in stimulating, playful activity than do mothers. From these interactions, children learn how to regulate their feelings and behavior. Generally speaking, fathers also tend to promote independence and an orientation to the outside world.
One study of school-aged children found that children with good relationships with their fathers were less likely to experience depression, to exhibit disruptive behavior, or to lie and were more likely to exhibit pro-social behavior. This same study found that boys with involved fathers had fewer school behavior problems and that girls had stronger self-esteem. In addition, numerous studies have found that children who live with their fathers are more likely to have good physical and emotional health, to achieve academically, and to avoid drugs, violence, and delinquent behavior.
In short, fathers have a powerful and positive impact on the development and health of children
While we can do our best to live out God's example as a father, we're still an imperfect vessel. Only God Himself can truly be the perfect example of a father. A father that's loving, compassionate, caring and forgiving. We're so glad that we can call Him father.
Thank you for reading, I would love to hear from you.
Eric Worlali Domie
Eric Worlali Domie is graduate from University of Professional Studies, Accra. Currently works with EDC Investment Limited (a subsidiary of the Ecobank Group) as a Sales Support Officer on the Business Development Desk. Eric is also the founder of World Youth Konnect (WYK), a non-governmental organization that seeks to empower young people to participate actively in the shaping of Ghana and the society in which they live and the world at large through educational, social, financial related activities. WYK firmly believes the NGO does not only provide young people with democratic representation, but also gather and structure their expertise in policy areas that concern them.