OSAGYEFO surmount 4th republic heads of state.Where the youth must stand.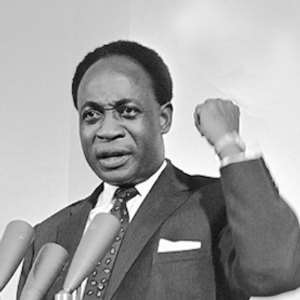 Osagyefo Dr Kwame Nkrumah
No leader can be like Osagyefo.No leader after independence to the fourth republic put together has match even the worst of Osagyefo Dr Kwame Nkrumah's leadership, competence and performance as a state man.The man defined with VISION,great achievements and wisdom.
The heads of state in the 4th republic are noise makers and accruing incompetence and mismanagers who does absolutely nothing but stands to fill their bellies and expand their bank accounts and satisfy their selfishness.
We have a gluttony of leadership who never gets satisfied. Their desire to exploit the vulnerable and package the national cake for their cronies is their outmost priority.The egoistic hypocritical leaders we had and now wallowing in, are the pains and suffering of mother Ghana.
Is totally absurd, disturbing and a riducle to see a rich Ghana ruled by several folks and high profile elites from two political parties as total failures.Their modus operandi in running the affairs of the country is injurious and uneconomical.
The two parties who have seized the country as their paternal rights has failed drastically to produce Good and visionary leaders therefore subjecting our beloved nation to abject poverty and hardship.
Osagyefo laid a good foundation for the prosperity and development of Ghanaians with massive industrization, infrastructure and social policies that made Ghana self reliant and a sovereign nation.Osagyefo knew we need industries as the backbone of revamping our economy and strengthening our local currency.However,our book long but visionless thieves sidelined his vision, abandoned his ideologies which is the best for nation building and developed a total capitalist system to exploit the people. Osagyefo served the country and his people right,He fed us, but today in fourth republic, the masses serve and feed their leaders.
Osagyefo forsook himself and all the luxurious protocols as a stateman.Today, we ve leaders whose interest is centered on "SELF" .Their pretence to serve the nation is an avenue for gathering wealth for families and friends.
Our leaders are syphoning the country through loans and aids from IMF,world bank and other bilateral institutions. This act is chicanery and contrary to socialism and the masses whose hope is in a good and socialist governance.
Our self seekers leaders are much interested in making laws that will enable them continually abuse power,get rich and maintain their political ,social and financial status.
Ghana is trembling waiting for that leader that will match Osagyefo Dr.Kwame Nkrumah, but when I look round, I find none. Who will do it! The you must wake up!
Osagyefo was an icon of transformation for Ghana,Africa and the world at large.He was never a neocolonial and imperialist puppet.He was a man for AFRICA. That's why the EFF-GH Stands with Osagyefo .
Today in Ghana, our economy is not at peace,our education is not at peace,our Health systems is not at peace , Agriculture is not at peace, development is preposterous, is not at peace. Poverty and anguish is the topic for the youth and vulnerable masses everywhere.
There is total absence of accountability and we all should be held responsible for not holding out leaders accountable.Is a chiming wake up call to all of us,a call of the EFF-GH, to rise and defend our nation, ourselves and the unborn generation thus we perish.
Wake up Ghana.
Arise Ghana youth.
Article by *ANTHONY AKUDAGO*.
[email protected] EFF-GH
telephone:+233244940504