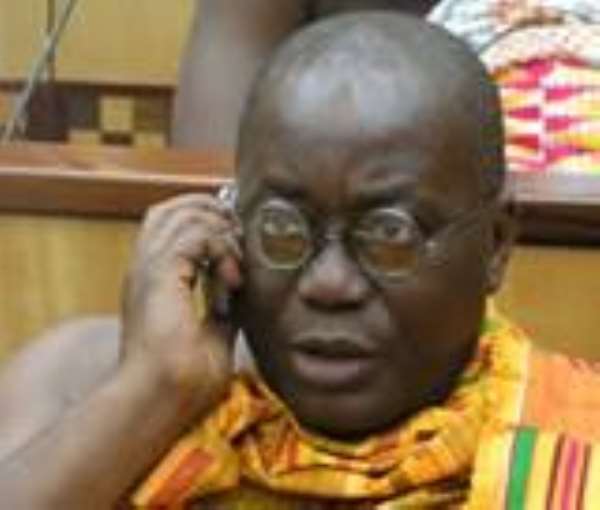 In a quiet low profile move, the nucleus of the 'Nana Akuffo Addo for President' campaign vehicle, styled as FONAA (Friends of Nana Akuffo Addo), went through a cabinet reshuffle, which saw the ouster of the British accented controversial lawyer, Gabby Otchere-Darko, Editor-in-Chief of 'The Daily Statesman', and the elevation of a Japanese brand automobile fitter based in Kumasi as its national chairman, alongside the quantity surveyor,
Mr. Victor Newman, of Akropong and Kaneshie.
Mr. Odeneho Oppong yesterday told HOT FM's inquisitive presenter that he was an assemblyman.
Mr. Mustapha Hamid, one time editor of the Statesman, who is related to Madam Hawa Yakubu, replaced Mr. Otchere-Darko to dilute the overwhelming concentration of Nana Addo's relatives in his kitchen cabinet. Mr. Hamid lost out the national delegate's conference when he contested for the position of national youth organizer, but lost last year.
Mr. Frimpong Manso, also known as Adakabre of HOT FM, an Accra-based FM station, yesterday interviewed some FONAA members and supporters of the
Foreign Minister and played back a pre-recorded interview with the minister, which drew flattering testimonies about the 'every day', respectful and friendly achievements of the man who himself played down whatever high visibility State visits from Japan and China that Ghana had experienced under his watch.
Nana Addo preferred to harp on the collective rather than personalize those dividends that had accrued to the nation in the sphere of International Relations.
Among the pro-Nana enthusiasts is Amponsah Bediako, who is generally known as the Government Spokesman on Social services.
He dismissed suggestions that by getting involved in launching FONAA and coming out categorically to declare himself as the candidate to beat, he was not already running contrary to President Kufuor's admonition to ministers aspiring to succeed him to resign first. In fact Bediako insisted that Nana was not campaigning.
But the vexed question of wide perception of his arrogance was addressed by the Foreign Minister and his supporters. Also, on the issue of his links with the NDC and charges of his connections with feared former national security chief, Mr. Kojo Tsikata and corresponding accusations of popular lack of trust about him, Nana Addo said that it's onto those who peddle such things: 'I have no explanation to give to anybody.'
Nana told his interviewer that Professor Atta Mills and he were mates at Legon and that it was okay for him to choose one vehicle and also for him to belong to another tradition. 'If people don't trust me because of that 'it's onto them', he said.
Chief Spokesman Mustapha Hamid appeared to be still in the learning curve as he did not come across, as someone intimately familiar, about many issues concerning Nana Addo and his background.
He told 'Adakabre' that he was not sure about the allegiance of Kwabena Adjepong. He, however, was emphatic that Kwabena was not a member of FONAA.
'I don't know for a fact whether he is with us or not' he wondered aloud. Kwabena Adjepong and Victor Newman were in the Akuffo Addo camp in the 1998-2000 presidential campaign primaries.
Dr. Charles Wereko-Brobby, also subsequently left the Nana Addo camp and the NPP altogether to found his own party, though he managed to pick up plum appointments as Chairman of the Venture Capital Fund and Ghana 50th Independence Anniversary Celebrations Committee.
The question of Akuffo Addo's communication challenges was also discussed with the panelists querying Nana Addo's manner of speaking English in a way that makes it difficult for people with Masters Degree to understand and appreciate him.
That he speaks even Twi with an English accent and, as Frimpong Manso suggested in jest, 'he spoke through his nose and between clenched teeth'.
Another major issue brought up by Adakabre was the suggestion that the flamboyant 'Akyem Abuakwa mafia' who had crowded his campaign team would be all over the place 'riding over us'.
But that suggestion was met with a rebuttal by one of the callers who suggested that, it was no different from that when President Kufuor came in as president and surrounded himself with his kinsmen.