Covid-19: Charismatic And Christian Churches Welcome Easing Of Restrictions On Churches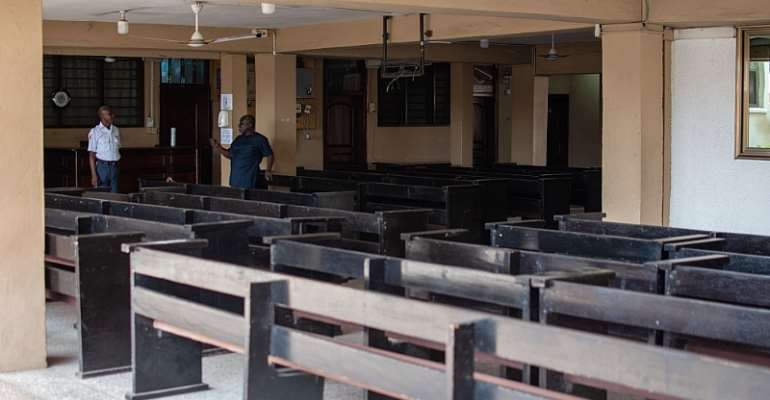 The National Association of Charismatic and Christian Churches (NACCC) has welcomed Akufo-Addo's decision of easing restrictions on religious activities in the country.
The President, Nana Akufo-Addo in a televised broadcast on Sunday, May 31, 2020, lifted the restrictions paving way for religious activities to commence on June 5, 2020, but with only a maximum of 100 persons in a church or mosque at a time.
Bishop Titi Offei, General Secretary of the National Association of Charismatic and Christian Churches, speaking on the Citi Breakfast Show on Monday, June 1, 2020, said even though they await clarifications on some of the directives, they are delighted to be able to hold church services again.
"Any easing of restrictions with regards to COVID-19 is welcoming to all Ghanaians especially when it gives them hope that things are better. So generally it is welcoming and especially for us as a church and as an association, it is also very welcoming."
"The difficulty is the 25% and the 100 people directive. Interpretations have been very varied and we hope that today, the Minister for Religious Affairs can give details on exactly what the president meant because they said 25% of your congregants can meet but not more than 100 people–does it mean that if you have a thousand people only 250 can meet but that 250 must be divided into 100, 100 and 50? Or is the President saying if you 1,000 people don't do 100, 100, 100 but use the 250 to do two or three services? So those are the questions we think that probably the Minister may be able to address to today," he said.
Calls for easing of restrictions
The decision to ease the public gatherings protocol had been met with mixed reactions by Ghanaians.
The Ghana Pentecostal and Charismatic Council, for instance, had indicated that it was not expecting a spontaneous easing of the COVID-19 restrictions in the country.
According to the Council, such a move should be done in a gradual process.
Giving reasons for this view, the General Secretary of the Council, Rev. Emmanuel Barrigah said their call for a gradual easing of the restrictions will give them ample time to prepare their congregants on how to embrace the new normal.
Former President, John Mahama was also expecting a significant easing of restrictions and called on the government to first conduct more widespread testing.
"…In the face of the imminent easing of restrictions, let me repeat the call on the government to consider conducting mass testing, at least, at the point of need," Mr. Mahama said in a tweet.
---citinewsroom