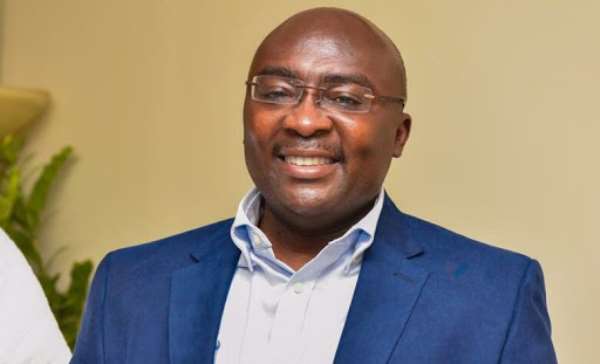 If only one address by the pedantic Dr. Bawumia could create pandemonium in the NDC party by means of making voices that have gone into total hibernation to be heard again indeed recounts the fact that Dr. Bawumia is just inimitable or incomparable.
The gravity of sense made in his address or speech upon a fastidious brooding and long and hard thought about it could not easily be decoded by a majority in the NDC fraternity which now has set the whole party into a quagmire for them to cast aspersions to indite his very image.
Instead of attacking Dr. Bawumia's very speech, because it was encrypted and had no password, they are now attacking his own personality, something so very unfortunate. If this wasn't the case, why do you think a former paterfamilias of the NDC party caution his own party folks?,'
Don't insult Dr. Bawumia, learn from him'...Allotey Jacobs. I so much expected the running mate of the NDC party to have engaged in a banter with the vice president but until now, no figure of a position like that has come out to blatantly mute him.
I vehemently think Dr. Bawumia really has done the NDC very well since his speech now is used as a yardstick to selecting a running mate for the party. This has been the blind side of the picture and instead of castigating insults on him, they should render unqualified appreciation rather to the man of the moment, Dr. Bawumia. "I can match Dr. Bawumia if I'm chosen as Mahama's running mate"...Alex Mould.
Indubitably, the man, Dr. Bawumia has become a 'Bawumiamometer", a special device for the NDC to choosing their candidate, indeed. Allotey Jacob was so quick to have said that Dr. Bawumia has now bridged the gap or juxtaposed the 'real propaganda' and 'real facts' kind of politics and for someone to do the later, that person must have the brains of Dr. Bawumia. 'Who in the NDC can match up to such a guy?', he sharply quizzed. A rhetoric question I guess.
Dr. Bawumia, from all points of indication is the new 'face' of Ghanaian politics. A statement I find so incontrovertible. One question that lingers in mind is, why is Mahama still adamant in choosing the officials who have made their intentions so so lucid by taking up the mantle of the running mate position(Asiedu Nketia, Alex Mould et al)? Mahama just sees all of them as far below the belt.
Mahama should do himself good by selecting any of them because it will take a decade of a lifetime to get someone to peg up with Dr. Bawumia. Dr. Bawumia, on the other side, has become a course of study, 'Bawumianomics' to the NDC fraternity and until they complete that year of course study, they can't and I reiterate, can't ever have anyone to match up with Bawumia.
Richard Bram
Member, Critical Thinkers International (CTI)