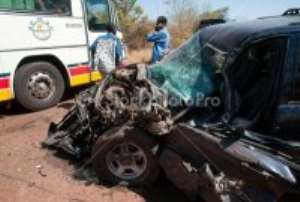 Road accidents are known to be one of the major causes of deaths in Ghana. In fact it is known to be the second major cause of deaths after malaria. According to the Motor Transport and Traffic Directorate (MTTD) of the Ghana Police Service, road carnage claimed 222 lives in January 2020 alone. The statistics also showed an average of seven deaths daily for the first month of 2020 from road accidents. In 2019 road crashes claimed 2,284 lives, according to the provisional data compiled by the MTTD.
Fourteen days into the year 2020, 34 Ghanaians died after a head-on collision between two buses at Dompoase in the Komenda-Edina-Eguafo-Abirem (KEEA) Municipality of the Central Region. Another accident was recorded on January 15, 2020 in which a commercial vehicle collided with a tipper truck, killing one person and injuring 10 others at Abrepo Junction in Kumasi. In March, 2020 another fatal accident occurred near Kintampo where 35 people, including, women and children, were killed when two busses collided.
According to the National Road Safety Authority (NRSA), persons who are significantly affected by road accidents in Ghana are males and females above 18 years. This means that the country is losing its productive human resources to accident –related deaths and also productive people are rendered disabled due to serious injuries.
Human resources in a country are the people who make up the workforce of the country's economy. The greatest and most precious asset of any nation is its people as it is they who explore and exploit all the natural resources in that country. The growing labour force provides a sizeable boost for the potential rate of economic expansion. In fact no country can develop without its human resources. The human resources of a nation form the wealth of the nation and it is upon the quality of the citizens that its prosperity depends.
According to Adam Smith, the prosperity of a nation is determined by the skills, efficiency, and attitude of the labour used by the country. The accumulation of human capital is the only effective way to maintain the fruit of progress of a nation. In fact the strength of a nation depends more on the people in that country- their potential capacity and capability.
We should therefore begin to recognize the value of human resources to the progress of our economy and the existence of our nation. Whenever we engage in the pursuit of any economic progress, we should not overlook the role of human resources in the fulfilment of this goal.
Human beings are the subjects of all economic and social activities in Ghana. For this reason, every effort must be made to stop endangering the lives of the people through road traffic accidents. Ghana, aspiring for sustainable socio-economic growth and rapid development cannot afford a decline in the size and skills of her productive human resources or labour force due to loss of lives in preventable road accidents.
There are many factors that lead to the numerous causes of road accidents in the country. According to some experts, the causes fall under three main categories – human, mechanical and environmental factors.
Human factors include disregard of road signs by road users, irresponsible driving behaviours especially among teenage drivers, and driving under the influence of drugs. Others are lack of respect for other road users, impatience and negligence, overloading of vehicles, fatigue and poor vision.
Mechanical factors are attributed to brake failure, burst tyres, use of fake spare parts, defective lights, and poorly maintained vehicles.
Lastly, environment factors that lead to road accidents are bad roads, dangerous bends, animals crossing roads without being controlled, broken down vehicles and obstruction on the road.
Road accidents do not just occur, they are caused and for me Ghana Police Service should be blamed for the numerous road accidents in Ghana because of the irresponsible behaviours they put up on our roads.
Let face it, police officers who are supposed to check and control motorists are corrupt and therefore fail to apply the laws strictly. In fact, they exhibit a high sense of unprofessionalism by extorting monies from motorists. This practice has become a norm such that the drivers are always eager to offer bribes to buy their way out. It will surprise you to note that police officers are now taking mobile money bribes from drivers who claim not to have cash on them.
The Inspector General of Police (IGP) and those who matter most in the Ghana Police Service must guard against these unscrupulous behaviours because their men and women in uniform on our roads are killing more people than any dangerous disease in the country. IGP must be quick and proactive in dealing with officers who engage themselves in these behaviours because the integrity of the police institution is gradually being put into disrepute.
We can decide to modernise agriculture, embark on industrialization policy and to build economic and social infrastructure to improve the standard of living of Ghanaians, our effort will not have any good reward if we continue to lose manpower because of road accidents that are preventable.
By Johnson Gyan
Email:[email protected]