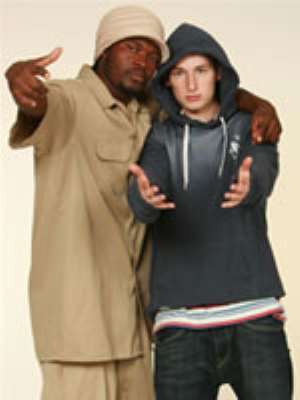 Richboogie, a German based Ghanaian musician is set to release his first album in Germany this June following the success of his previous project, a single that enjoyed tremendous airplay in Dortmund.

Known in private life as Richard Yeboah, Richboogie confirmed to myzongo that work is already complete on the album and come June 7, 2007 it will be officially launched under the title "A Piece of Booginess".

The Ghanaian hip-hop artiste who has quite a respectable following in the German city of Dortmund revealed that the album, which was recorded and mixed at Mo Style Studio in Dortmund under the Boogieness Records label, contains exciting tracks made up of rap, reggae and other exciting genres.

The songs on the CD which are mainly in the German language also have some English tracks designed to appeal to non-German listeners and working alongside Richard on the album were Albert Chapiro (Der Eine), Schrubba Knox and Inferno 79 among other top hip-hop acts in Germany.
The album according to Richard happens to be the first one under the Boogieness Records label which is also partly managed by the Ghanaian who is no stranger to the German music industry-he also doubles as a club DJ.
"I have been playing in some of the top night clubs in Dortmund and other German cities where I have a good number of following, reason for which I believe this album will possibly go places" says Richard Yeboah.
Following the Black Stars'success at the recent World Cup in Germany and the country's 50th anniversary celebrations, Ghana has become quite talked about worldwide, and in Germany, Richard intends to promote Ghana further through his music and this album according to him "presents the best opportunity to do so".
As part of promoting Ghanaian hip-life music in Germany, Richard further reveals that Dortmund city clubbers thanks to him are in love with such Ghanaian artistes like VIP and Castro among others and he's exploiting the possibility of having any of these hip-life performers do a gig in Germany in the not too distant future.
On the future, Richboogie says he hopes to do collaborations with some hip-life musicians when he visits Ghana at the close of 2007, for now though he wants to "ensure the success of this debut album as it will determine the future of Boogieness Records label".
Source: Oral Ofori, MyZongo.com