The Primary Purpose Of Prayer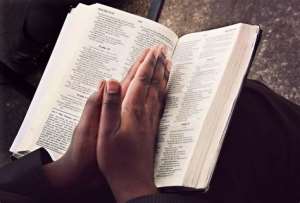 Someone asked, "Pastor, why do we pray?" My response was this: Prayer is to our spirituality, what Adenosine Trio-Phosphate (ATP, pictured) is to our physiology. Simply, we PRAY to RENEW OUR SPIRITUAL STRENGTH. There is no format.
We can enter prayer by giving thanks, adoring & praising God, petitioning His will about an issue, asking Him for forgiveness or asking Him to use mightily; whichever way we start to pray doesn't matter. In the end, God answers by RENEWING OUR STRENGTH to continue to face life as He rolls out His WILL for us per His set timelines; that is, by REFILLING US WITH THE HOLY SPIRIT POWER. Indeed, they that wait upon the Lord shall RENEW THEIR STRENGTH (Isa 40:30-31).
Before Jesus went up, He told His disciple to go and TARRY (tarry means spending more time in prayer) until they were ENDUED WITH POWER.
Hence prayer is like taking your cutlass to be sharpened; prayer is like taking your car for servicing; prayer is like shaking off ashes and filling in charcoal into a coalpot to reignite the fire; prayer is like spending time with your spouse to chat and to commune to enrich your marriage; prayer is like charging your mobile phone; prayer is like eating & breathing. In all these illustration, the END POINT is the RENEWAL OF ENERGY! Through prayer, the FIRE ON THE ALTAR OF OUR HEARTS IS KEPT BURNING (Lev 6:12; 1 Thess 5:19).
If taken seriously, the longer we tarry in prayer, the deeper we go in renewing our strength. Ceteris Paribus, the Level of SPIRITUAL POWER is directly proportional to TIME SPENT PRAYING. God answers all the issues we pray about by GIVING US THE FULLNESS OF THE HOLY SPIRIT; the FULLNESS OF THE HOLY SPIRIT is all we need.
When we have the Fullness of the Holy Spirit, we have STRENGTH to overcome challenges; we have WISDOM to handle issues; we have CAPACITY to forgive & love difficult people etc. etc. In short, we have POWER to INFLUENCE people & situations around us for the glory of God. Hence, when we spend time to fast & pray, OUR AIM is to be FULL OF THE HOLY SPIRIT; with this fullness, demons & challenges can BRING IT ON!!! We shall overcome because we have POWER! You shall receive POWER after the Holy Spirit has come upon you! (Acts 1:8)