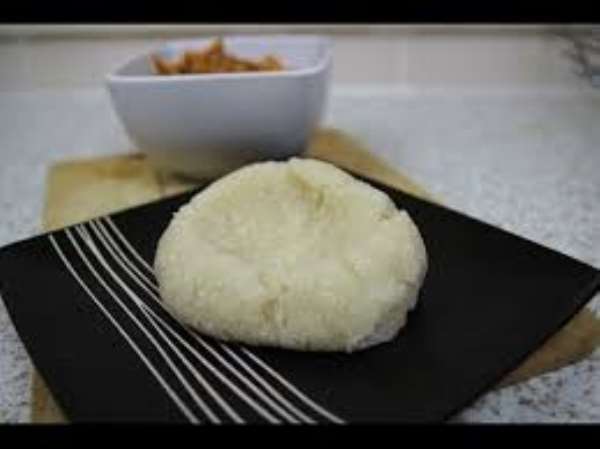 Photo culled from Youtube
Ingredients & Utensils for Making Eba
Garri
Water
Cooking pot or a bowl
A Kettle to boil water
Big wooden spoon
Steps To Making a Perfect Eba
1. Have a bag of garri ready.
2. Boil some water in a kettle or a pot
3. Pour the water into a bowl or cooking pot
4. Preferably using your hand, pour the garri into the hot water, doing it slowly to avoid getting lumps in your eba. Spread the garri around in the bowl as you pour it
5. Do not cover the water completely with garri, allow an inch or so of water to float above the garri.
6. Leave it like this for about a minute or two, then pour the water at the top of the garri away.
7. Using wooden spoon, turn the garri that is now becoming eba around in the bowl till you have a nice smooth soft eba. If the eba is too hard for your liking, add a bit more hot water and stir. If the eba is too soft for your liking, add a bit more garri and stir.
8. Your eba is ready, serve into a flat plate. It can be enjoyed with Okra, Ewedu or Ogbona soup served on the same plate or on a separate plate.
Hints and Tips
* There are several varieties of garri, though the are all made from the same base ingredient (Cassava) the finishing is quite different and some even have additives such as palm oil which gives the garri a yellowish appearance.
* With some garri, the hot water you use to make eba must not be at boiling point, you need to allow the boiling water to cool a bit before starting your eba making.