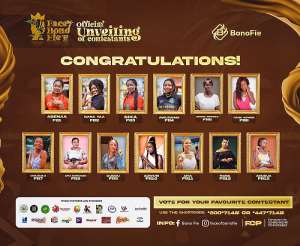 Face of Bono Fie is a beauty pageant program that educates Ghanaians and the global community about the various cultural values and heritage in the Bono regions of Ghana.
The pageant is one of the major events in the timeline of the upcoming festival and homecoming dubbed Meko Bono.
On Saturday 13th May to 15th May a number of outstanding ladies took part in the official audition. Appreciation to City Aroma, Sunyani for hosting the auditions. The ladies partook and completed the final phase of the audition process.
As part of the grooming, the ladies were taken through; Catwalk training, Communications, Cultural Training and among the numerous activities also included workout sessions, hair and makeup class.
These ladies are ready for the final test to determine who makes it to the competition. Among the numerous ladies who showed their interest in the pageant, these are the 13 qualified contestants who made it to the next stage with their codes and respective towns:
Abenaa- Abesim (FB1)
Nana Yaa -Techiman (FB2)
Sika -Abesim (FB3)
Awurama -Sunyani (FB4)
Adwoa Foriwaa - Kotokrom(FB5)
Nana Adwoa -Sunyani ( FB6)
Owusuaa -Dormaa (FB7 )
Afia Konamah -Sunyani (FB8)
Duodu - BEREKUM (FB9)
Adwubi (Techiman) - FB10
Afia - Dormaa (FB11)
Nana - Techiman -FB12
AKOSUA - Odumasi (FB13)
The contestant will be opened to a lot of opportunities throughout the journey as they will get massive exposure, build the best network in the three Bono regions: Bono, Bono East and Ahafo. There will be training and retraining, fan trips and new skills acquisition, among others. However, some of the specified packages for contestant and winners are;
A. CONTESTANTS
All contestants will receive certificates of participation and souvenirs from sponsors
Winners of various tasks take home trophies or citations.
B. OVERALL WINNER
Crown and sash
Cash Prize (to support Projects)
Official Bono Tourism Ambassador
Other Ambassadorial Deal
Mentorship
Modelling Contract
Wardrobe sponsorship for 1 month
Souvenirs From Sponsors
Electronic Appliances
C.RUNNER UPS (1st and 2nd)
Sash and crown
Cash Prize
Mentorship
Special Souvenirs from sponsors
Electronic Appliances
Also here are the various phases for results (100%) accumulation and choosing of winners.
This is general voting by the public to show their support as well as verify their favorite contestant through a Shortcode (USSD).
Main Judges (Grand finale) - 30%
This session can be described as the results the main judges will accumulate during all performances at Grand finale.
This is percentage will be accumulated by rate derived from Special task by contestants
Organizing committee - 10%
This will be based on activeness in participation in other activities, behavior, among other. This team is led by the Chaperone.
Finally, we know the general public will love to have a fair knowledge of our timelines and event schedules:
Official Launch and Public Orientation - Wed,10th May 2023
Auditions - Sat,13th - 15th May 2023
Contestants unveiling- Wednesday;17th May 2023
Contestants Post-Unveiling Orientation- 17th - 19th May 2023
Voting: Sat,20th May - 17th June 2023
Queens Tasks & Eviction - May and June
Media tours & Fun Activities- June 2023
Grand finale - Sat,17th June 2023.