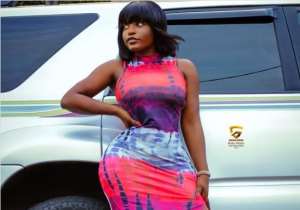 Ruby Flashy
Sensational Ghanaian-based TikTok 'goddess', Ruby Flashy, has made history as the first-ever social media influencer from Ghana to hit 2.1 million followers on the famous app, TikTok.
Ruby Flashy became famous via TikTok after a video of her twerking went viral.
This said video has accumulated over 23 million views since it was uploaded.
https://www.tiktok.com/@rubyflashy9/video/7003426296441228549
In the video, Ruby was seen twerking to her single titled 'vanlova.' The video is just a month old and it's already making waves.
The video also received a lot of reactions from social media critics with liked it while also having negative comments.
Since then, growth and opportunities have found her and paved the way for her to become one of the top influencers on the video-sharing app.
Ruby's numbers, both views and followers, escalated and gave her the right as a socialite who can now be described as a household name anytime TikTok is mentioned in Ghana.
The content creator is yet to be verified on the app. Has hope of becoming one of the great musicians in the World has now moved on to become the first Ghanaian to clock two million viewers on TikTok.
By way of celebrating the achievement,
Ruby Flashy Post;
https://www.tiktok.com/@rubyflashy9/video/7023415888175041798