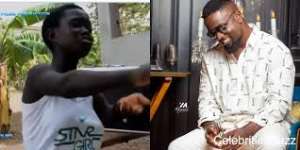 Last week social media was on fire with a video of a diminutive young lady who claimed that her sexual encounter with Ghana's best rapper Sarkodie contributed greatly to his rise to fame.
According to the young lady who calls herself "Atopahemaa" she was Sarkodie's girlfriend and during the times she had sex with Sarkodie, she gave him styles which Sarkodie enjoyed so much and started exclaiming "Huh, Huh!"
She added that she wined her waist so well that Sarkodie enjoyed until his bulgy eyes were close to nearing exploding. As a result, the rapper resorted to the use of "Huh" in his rap.
Sarkodie came across the video and reacted to it, asking "Atopahemaa" to move on because he has also moved on.
Sarkodie, wrote:
"Sometimes you gotto let go .., someone tell my toxic Ex I moved on she should do same"
In an interview with Occasions TV on Youtube "Atopahemaa has finally reacted and responded to Sarkodie's tweet. She made so many revelations and bashed bloggers who suspected that she's a dwarf and that she has given Sarkodie a dwarf spirit which has made him popular and success.
She said, "Sarkodie's success does not depend on any charm. He has clean hands with a clean heart. His success is as a result of the affairs I had with him".
She also said that she do not need anything from Sarkodie but would want to meet him one on one so that they settle any dispute between them.
Watch the hilarious interview in the link below: