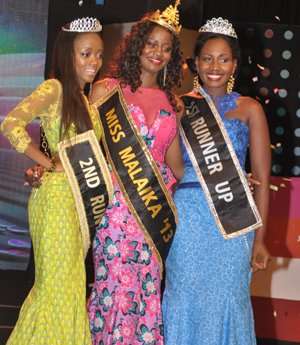 Naa Oyoe Quartey (middle) in a pose with Nana Ajoa and Aisha Kaleem, Ist and 2nd runner ups respectively
In the early hours of Sunday October 13, 19-year-old Naa Oyoe Quartey was crowned Miss Malaika 2013 at the National Theatre.
Moments after being decorated with Miss Malaika 2013 crown, Naa drove home a new KIA saloon car, whose keys were handed to her by organisers of the event, Charter House.
As part of her prize package she also received GH¢6,000, ATL fabrics and other souvenirs from the sponsors.
Naa walked in the footsteps of Sharon Coffie, Miss Malaika 2012, as one of the youngest contestants to have won the pageant.
From the beginning of the show it was obvious she was going to carry the day as she beat nine other beautiful, intelligent and clever young ladies for the converted crown.
Nana Ajoa Twumwaa Baafi, a 22-year-old was adjudged the first runner-up. She took home a cash prize and souvenirs from sponsors.
Aisha Kaleem was the second runner-up. She also took home a cash prize plus souvenirs from the sponsors.
The performance of all 10 contestants on stage right from the onset to the end was exhilarating and educative.
Most of the applause from the cheering crowd went in her favour as Naa stood out after she performed creditably during the show.
The event witnessed performances from stars like Eazzy, Becca, Efya and Raquel. They rocked the crowd with their various hit songs and powerful voices.
By George Clifford Owusu