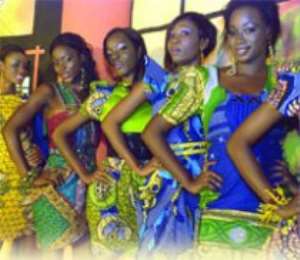 Smiles outside and hard work backstage
When the Malaika ladies appear on GTV screens all spruced up, decked in the latest fashion and sporting the latest hairstyle not many viewers think twice about how they get to look so beautifully on the outside.
However, to the men and women behind the scenes whose responsibility it is to design their clothes, spend hours to fix their hair, painstakingly take them through the appropriate runway ethics and delicately apply their make up, all they think about is "are they looking good enough?"
The designers for this year's Miss Malaika competition; K'naf, Christie Brown, Pistis, Visions by house of Damaris, Original Couture, Nipo, Afri-ken Novelty and Nirmef X'clusive spend time each day dreaming up and designing the outfits that the contestants will wear weekly throughout the 13 week journey of the competition while First Choice worry about their hair and makeup.

It is always exciting observing this group of people behind the scenes of each Malaika episode. The near panic conditions, the strain under which they work, cameras ready, sound ready, everyone on standby to roll and designers and make up artists running around because someone needs strapping and someone's makeup needs touching up. Such is the life behind the smiles on Malaika TV.
Perhaps this situation should be expected since Miss Malaika Ghana has positioned itself as a pageant that embodies the total beauty of the African woman and the 21st century Ghanaian woman by extension.
Thus the competition engages the assistance of experienced ladies known as the godmothers whose experience in personal grooming and social etiquette make them invaluable to the young ladies.
Their job may appear pretty simple: observe the ladies on a weekly basis while gently, yet firmly, directing them on the proper conduct and occasionally state a case for retaining one contestant or another in the competition when they come up for eviction.
This is the reason why young women, who have gone through the Malaika experience, even when they did not win, often stand head and shoulder above their peers.
Introducing the experienced godmothers of Malaika, Mary-Anne Sekyi and Mrs Kay Bentsi-Enchill. Mary-Anne Sekyi is an experienced journalist, food critic, Managing Director and proprietress of Melting Moment Patisserie and Coffee Shop situated at Labone in Accra.
She has been a godmother for the Malaika pageant for the past six years and the experience tells on how she relates to the lady contestants. She watches over the delegates with the keen eyes of a Mother as she has two children of her own.
Mrs Kay Bentsi-Enchill, the other godmother, is on her third term as godmother for the Malaika pageant. Kay is an Image and Beauty Consultant, CEO of Q'ticules and Nails Studios, Airport Residential Area, Accra, with over 27 years of experience in the image and beauty industry.
A seasoned make-up artist and professional health and beauty therapist; Kay has worked over the years with many high profiled personalities and brings to the delegates as godmother invaluable lessons in personal grooming and carriage that are key to success in the corporate world.
With three children of her own, Kay currently organizes personal branding and image enhancement training for financial, hospitality, social groups and also selected education institutions.
With these highly experienced people working with the seasoned producers and event managers of Charterhouse, one can expect nothing but the very best in television viewing for this season which rolls on GTV this Sunday at 3pm and an eviction show on Tuesday at 9pm.
The search for Miss Malaika 2010 is sponsored by MTN, Sultana tomato paste, KIA, UB hair relaxer, First Choice, Lifestyle Gallery, Royal Richester Hotel and produced by Charterhouse.
The queens from this pageant embark on a year long Malaria eradication campaign that aims to cut drastically the prevalence rate of Malaria in Ghana.