New Stadium For Cape Coast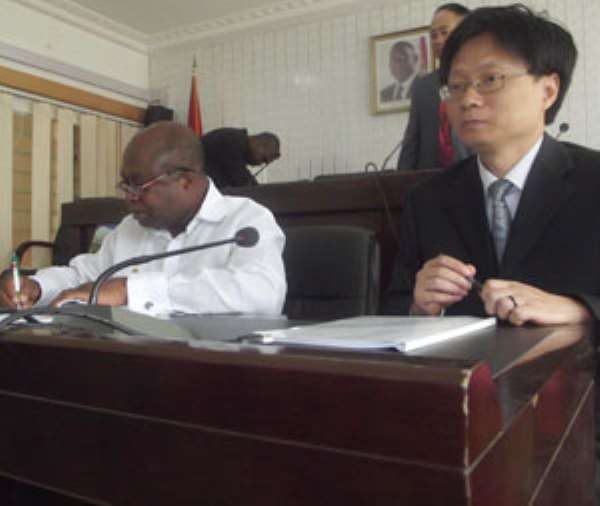 Hon Humado (L) and Zhou Jun, Group leader signing the MOU
The Government of China and its Ghanaian counterpart on Friday signed a Memorandum Of Understanding (MOU) for the construction of a 15,000 sitting capacity stadium at Cape Coast in the Central Region at the Ministry Of Youth and Sports Conference Room.
It was revealed after the signing of the pact that work on the project will begin in October this year. 
The Minister of Youth and Sports Clement Kofi Humado, in an address, noted, 'This is a culmination of a series of meetings we have had regarding the construction of an Olympic size stadium for the region.'
He added: 'This is a manifesto promise to the people of Cape Coast, educational institutions as well as clubs in the region.'
According to the Minister, the coming to fruition of the dream stadium was earlier than expected, having visited the site with National Sports Authority Director Wolanyo Agra and the Chinese team two weeks ago. He expressed profuse thanks to the Chinese government for the support.
http://www.dailyguideghana.com/wp-content/uploads/2012/03/new_stadium.jpg
A prototype of the Stadium
The Economic and Commercial Counselor of the Embassy of the Republic of China Gao Wenzhi, in the company of Chinese architects and engineers, noted that structures had already been put in place for the commencement of the project.
He said the MOU was the first ever with the Sports Ministry and expressed the hope that more would follow, having stayed in a healthy relationship with Ghana since the 1950s.
  By Kofi Owusu Aduonum