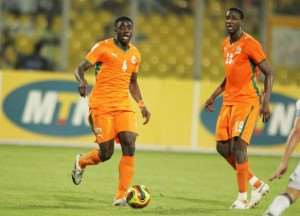 Ivory Coast defender Kolo Toure concedes that his side were beaten by a superior team at Soccer City on Sunday night.
The Elephants lost 3-1 to Brazil, with Didier Drogba grabbing a late consolation goal following a brace from Luis Fabiano and one from Elano. The Manchester City star feels that his side gave their all in what was an entertaining encounter, but it was just not enough to overcome the South Americans. Toure said after the match: "For us we were beaten by the best team in the world. We tried our best but they had the experience of being five times winners and for us it is the second time we are playing.
"It was very physical and technical. We gave our all but we played against a better team." African teams have struggled to impress on home soil after they were all talked up ahead of the first ever World Cup in Africa. Toure believes that the cold whether may be playing against the African nations and says that teams from Europe are benefiting from the conditions.
He said: "It is cold here – this is Africa, it is (a) hot (place)! "I think that the European teams are playing very well because it is cold. I think it is a good place for any country. "They (South Americans) are also doing very good. They have some good teams from the continent. They also have the best players and they are doing well."
The Elephants' final group match is against North Korea, a must win if they are to have any chance of fulfilling their ambitions of progressing to the next round.
The former Arsenal star admits that the team want to finish as strongly as possible and believes in their chances of going through. "For us we just want to finish very well. We still have a chance because you never know in life," he added.