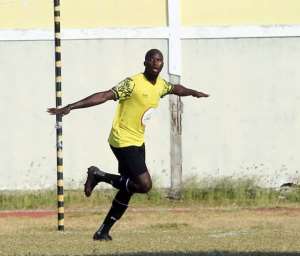 Former Dreams FC goal poacher, Daniel Adade has won a top award in Asian football.
The 24 years old gifted goal-getter have been Crowned the Best Striker in the East Timor Premier League after clinching the Golden Boot with 12 Goals in 13 appearance for Assalam Fc whilst fellow Ghanaian compatriots Nathaniel Agbodzo(GoalKeeper) and
Ismael Adams (midfielder) won the 2019 League Title with Lalenok United FC.
The nimble-footed Ghanaian international who flourished in the local scene while in the books of Istanbul and Dreams FC left the shores of Ghana to East Timor where he signed his first international contract with Zebra FC for the 2016/2017 season before moving to his current employers Assalam FC.