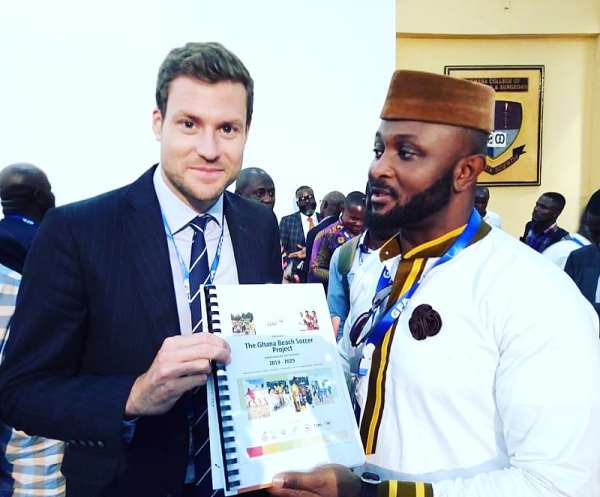 A 61 page beach soccer industry blueprint for Ghana has been presented to FIFA and the Ghana Football Association (GFA) in Accra.
The impressive document which was put together by the executive committee of beach soccer is titled "SAND TO GOLD - Ghana Beach Soccer Industry" (2019-2029).
The proposed ten years road map tables guidelines to transform the struggling sport into a multi-million dollar franchise based on research conducted over five years. It was presented to Luca Nicola, Manager of Governance Services - FIFA.
A copy was also presented to the GFA at the end of the biggest gathering of Ghanaian football stakeholders.
The symbolic document has been crafted after a decade of trial and error, failures and frustrations but ultimately hard progress following the official introduction of the sport in Ghana back in 2009.
"Today, Beach Soccer has been accepted as a member of the Ghana football family and so from today, we must work even harder than ever before to help strengthen this family and build an industry that every Ghanaian, everywhere would be proud to call their own".
Those were the words of Yaw Ampofo Ankrah ; a founding member and elected President of the Ghana Beach Soccer Association following the presentation.
The historic breakthrough for the fast growing sport, came at the GFA Extraordinary Congress held in Accra on Thursday 5th September 2019 and attended by almost every stakeholder of the game.
A unanimous vote by Congress to adopt new and amended statutes of the football association already approved by FIFA received universal applause in what was also a historic day for the FIFA backed Normalization Committee led by Dr Kofi Amoah.
It has been a long campaign to get the sand based sport full recognition and support as pertains elsewhere on the African continent thanks to FIFA and CAF affiliations.
A formal presentation by Ghana Beach Soccer would be made to delegates at the elective Congress on a date yet to be confirmed.
Also approved for final adoption at the elective GFA Congress were Professional Footballers Association of Ghana (PFAG) and FUTSAL.
The "Sand to Gold" document contains a strategic plan for Beach Soccer as a sports tourism industry beyond just a game with infrastructural investment by the state and corporates.
The document looks at nationwide talent identification, training of referees and coaches, media, marketing and corporate partnerships and also provides a road map for sanitation officers and volunteers to be trained to combat coastal degradation.
In a complete overhaul and expansion of what currently exists, local artisans, vendors, musicians and tourism service providers would also be engaged as part of a beach Soccer Sports Tourism project.
A chapter also details how fishing communities and schools along the coastal belt would be engaged extensively to combat marine pollution.
Sustainable income generation for coastal communities is addressed in the document through proposed partnerships with the tourism industry, hospitality and related sectors aimed at also selling Ghanaian festivals globally.
Meanwhile the national beach soccer team Black Sharks are expected to in Liberia to play against the Beach Lone Star in a Unity Cup match in honour of President George Weah next in October.
Source: Thepressradio.com/Dickson Boadi