Ghana has confidence in Dujkovic – FA Boss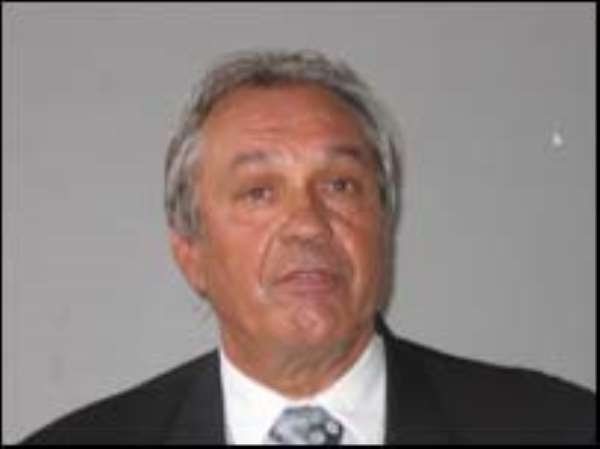 THE ACTING Chairman of the Ghana Football Association (GFA), Mr. Kwasi Nyantekyi, says Ghana has faith in the ability of Coach Ratomir Dujkovic to deliver with the Black Stars in upcoming challenges, including next year's World Cup in Germany.
In this regard, he said there was no reason to look elsewhere for the replacement of the coach. Reacting to media reports in Britain that the GFA was in talks with Manchester City forward, Andy Cole, for a possible coaching job, Mr. Nyantekyi said his outfit had not discussed any such issue with the former English international nor assigned anybody to pursue such programme on its behalf.
He said the report, which also mentioned Ghana's interest in former England goalkeeper, David Seaman, as a goalkeeper's trainer, could, therefore, not be true in any way.
The report by the BBC said Cole, 34, had expressed delight at the approach made by Ghana and was looking forward to further talks scheduled for November 9, although it fell short of mentioning the particular role the Manchester City player was expected to play in the team. Dujkovic's contract with Ghana expires at the end of 2006.
But his job appears more secured by his competence, behaviour and performance exhibited over the last eleven months that he has been in charge of the senior national team.
He qualified Ghana for the World Cup for the first time in the country's history, despite taking up the job at a difficult time when qualification appeared a tall order.
Dujkovic's style has brought discipline to its highest level in the team, with the likes of Samuel Osei Kuffuor, Asamoah Gyan, Sule Muntari and Yakubu Abubakari falling victim to his stern disciplinary rod.
Liberty Professionals' assistant coach, Silas Tetteh, deputises for the coach at the Black Stars job, with former national goalie, Edward Ansah, also in there as goalkeepers' trainer.
Mr. Nyantekyi said Dujkovic had not asked for an assistant or Andy Cole in particular or even David Seaman. He said the supposed GFA official, Dennis Tawiah, who was quoted by The Sun newspaper, has never been an official of the GFA.
Tawiah himself denies the story and insists that he never spoke to The Sun. In an e-mailed message posted on the internet website, Ghanaweb, Tawiah said at no point did he discuss the possibility of Ghana contracting Andy Cole as a coach.