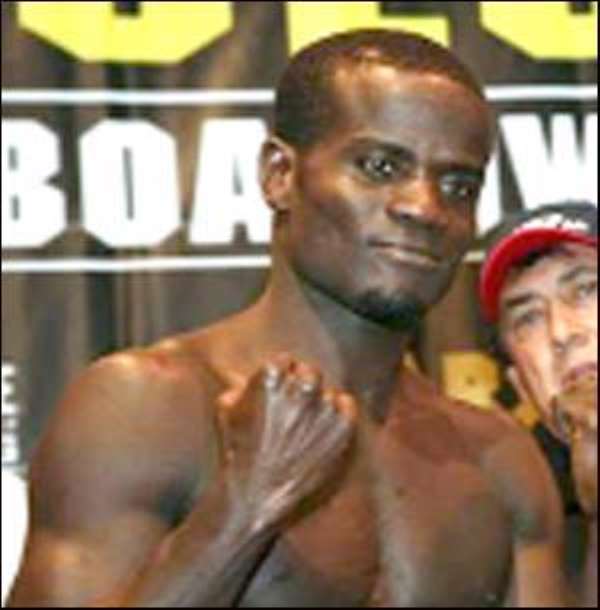 Joshua Clottey
The African nation of Ghana has given the world a few really good boxers. Azumah Nelson, Ike Quartey and Ben Tackie come to mind.
Now 32-year-old welterweight Joshua Clottey is working hard to be remembered like Azumah Nelson, a winner of three world championships.
Was life growing up in Ghana hard? "Very, very, hard," Clottey said. "Ghana, you know, there is nothing there. When you are a young guy you have to fight to get ahead," Clottey said.
Boxing was his way to do just that. Fighting has put Clottey in the hearts and minds of his countrymen. If he retired tomorrow, his career would be memorialized with those of Quartey and Tackie.
A veteran (35-3-0, 20 KOs) whose win total is approaching Nelson's (39-6-2, 28 KO), Clottey already has an IBF welterweight championship belt to show for his efforts.
He is Manny Pacquiao's second choice for defending the WBO welterweight championship. Clottey said that being Floyd Mayweather's understudy does not bother him, that fighting the world's #1 pound-for-pound boxer is something he's earned.
But what if…he does beat Pacquiao, and becomes a household name overnight. Will he still want to attempt turning over a couple losses, specifically to Miguel Cotto and Antonio Margarito?
"I want to fight with Cotto, even if I win (against Pacquiao) I want to fight against Cotto and (Antonio) Margarito," he said.
But after a win against a superstar like Pacquiao, a second loss to a previous foe may tarnish a newly created legacy.
That doesn't scare Clottey a bit. "I would love to fight with Cotto, I would love to fight with Margarito," he said. "Because, in both fights, something happened. Cotto was the controversy, Margarito, (it) was the (left) hand, so I need to fight them again," he said.
fightnews