Michael Essien Faces Dilemma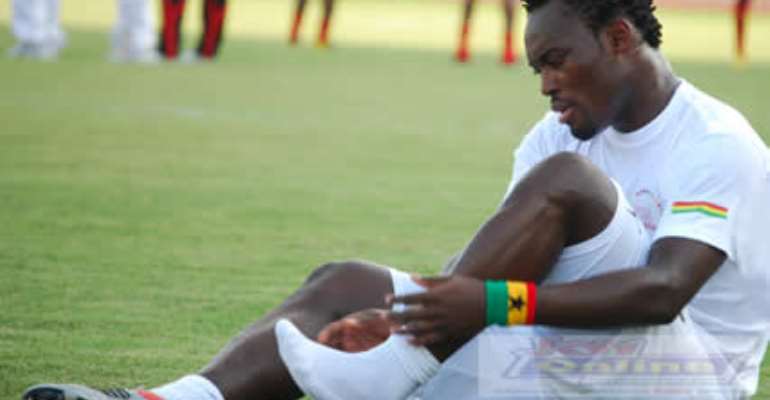 Michael Essien admits he could face a club-versus-country dilemma in January. The Chelsea midfielder, preparing for Tuesday's Champions League clash with Apoel Nicosia at Stamford Bridge, will leave the Blues to take part in the African Nations Cup with Ghana in Angola from January 10 to 31.
Essien will miss four Barclays Premier League games during that period but his national side have the right to call him up to their squad two weeks prior to the start of the tournament and that might cause further problems.
Nigeria and the Ivory Coast could do the same with John Obi Mikel plus Salomon Kalou and Didier Drogba respectively, but Essien says he will leave the discussions to Chelsea and the Ghana Football Association should the situation arise."At the moment, I haven't heard anything from Ghana yet," said Essien."I'm focusing just on club issues. Once I get that call, we'll have to talk to them."If I have to leave, there's nothing I can do. It's always difficult when it comes to this situation. The club have a good relationship with the (Ghana) FA and I'll leave that to the club and just focus on what I'm doing.
"We'll be going away in January, but we still have a very big and good squad to come in and do the job. It won't cause a big problem for the club."It's going to be a very difficult tournament. We have a lot of African players playing in Europe. It'll be very difficult. We have some good players in the team who can do a job."We'll just work very hard and see what we can do. I'm always happy to represent my country."
After two defeats within four days last week, Essien was eager to reject suggestions the Blues had lost their momentum. Their Carling Cup exit on penalties at Blackburn was followed by a league defeat to Manchester City but Essien says the spirit in the camp remains buoyant. "We were just unlucky to lose those games," said Essien."We still have good players who are going to do the job."We are going to tackle that tomorrow and, hopefully, we can win this game."I don't know about us having a point to prove. We've already qualified. But us, as players, we always go out there to win."We've lost two games in a row and we don't want to make it three, so we're going to do everything we can to win this match.
"We did not play badly against City. We were just unlucky to lose the game. But it's part of the game. You win some, you lose some, you draw some. It's finished now. We have to look forward and think about the games ahead."We know it's difficult to win the title. You come up against very tough teams. We have to keep working hard and see what happens at the end."We're not planning on losing any games. We want to win all our matches. We'll work hard on that, try to get our points and see what happens.
"We're still at the top now and have some difficult games to play. While we are away in Africa, our team-mates will be there to do the job, go out there and win games for the team and for the club. We will come back and help them finish the season." Essien also defended Frank Lampard and Petr Cech, who came under fire for errors in the 2-1 defeat at Eastlands. Cech allowed Carlos Tevez to score from a 25-yard free-kick and Lampard missed an 83rd-minute penalty - his first error from the spot since September 2006.
But Essien insists all the team should shoulder the blame for mistakes. "Petr does not play on his own," added Essien. "There are 11 players on the pitch. Everyone should take the blame, not only Petr. If we'd done our defensive work, we would not have conceded. There's no blame. We just need to do our homework well.
"Frank is a very strong guy, very strong mentally. These things happen. Anyone can miss a penalty. He's not the first and he won't be the last. He's put it behind him and is looking to the future. He's our best penalty taker at this club."