Joshua To Battle Shane Mosley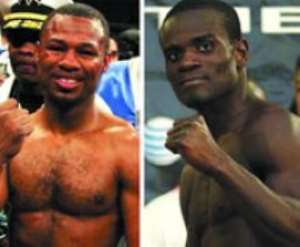 Shane Mosley & Joshua Clottey
Joshua Clottey, the former IBF welterweight champion, is close to a dream fight for Shane Mosley's WBA belt after the sanctioning body named the Ghanaian as number one contender to the American's title in the latest rankings.
The WBA rankings, as well as those of the other main boxing sanctioning bodies, have brought Clottey closer to another title shot than ever, a month after he controversially lost to WBO champion, Miguel Cotto, in New York.
"I don't think Shane (Mosley) can runaway this time since I am the first contender to the title," Clottey told Graphic Sports in an interview.
"He has avoided me over the years, but I think this is the right time for us to fight because there cannot be any excuses from anybody anymore," the former champion said.
If negotiations succeed, the fight is expected to happen around November to permit both boxers time to prepare for another of the welterweight's juiciest clashes in recent times.
Clottey said his manager, Vinny Scolpino, is expected to meet promoter Bob Arum and Mosley's camp in the coming days to firm up arrangements for the fight.
Despite his loss to Cotto on June 13 this year, Clottey has received respect for his show in that fight which the Puerto Rican won on a split decision, and which drew the fury of Clottey upon the announcement of the verdict.
Indeed, he is now ranked sixth by the WBC, fifth by the IBF whose title he vacated to fight Cotto, and second to the WBO belt Cotto holds, while the respected boxing website, fightnews.com, has placed him at number five behind Mosley, Cotto, Andre Berto and the suspended former WBO titlist, Antonio Margarito.
"I promise Ghanaians that I will reclaim a world title. I hope it happens this year, but no matter what happens, I will not let the people down," the ever-confident Clottey said.
While Mosley is considered the biggest boxer among today's welterweights, with a potential date with Manny Pacquiao on the cards, Clottey is respected for his willingness to come at opponents to 'fight' in an era when that quality is missing.