Athletico Vow To Hold On To Sadick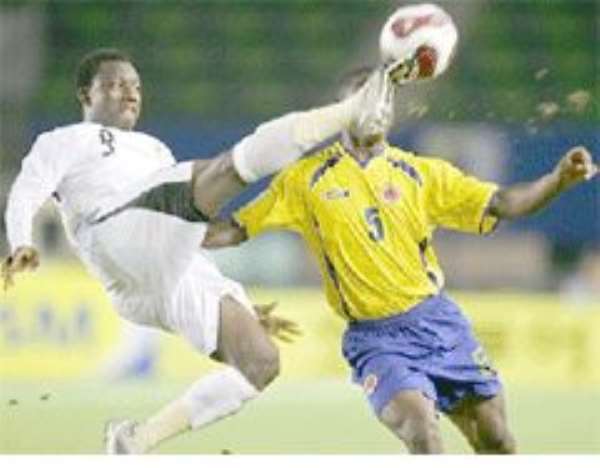 Spanish side, Athletico Madrid, are keen on holding on to emerging Ghanaian striker, Sadick Adams, despite impediments resulting from his controversial move to Etoile du Sahel in Tunisia.
Athletico are currently locked in a legal dispute with Etoile at FIFA's court following Etoile's application to football's world governing body for justice after the 2007 FIFA Under-17 World Cup sensation reneged on a contract his legal advisors described as unforceable.

A high ranking official of Athletico Madrid, Rafael Juanes Gallego, said they were expecting FIFA to end the dispute in time to enable Adams pursue his career with them.

"Sadick is a great player already, and we are keen on seeing him play for us. What is left is FIFA's ruling and we can't wait for it," Juanes Gallego told the Graphic Sports in Accra last week.

Sadick had signed for Etoile following his return from the Under-17 championship. That contract for the juvenile was worth $8000 in signing on fee and $600 in monthly remuneration.

His International Transfer Certificate (ITC) subsequently issued by the Ghana Football Association upon a request made by Ashantigold, his local club.

But Sadick's guardian and advisor, Jones Alhassan Abu, said the player was too young then to have committed himself to a legal contract without supervision.

"He was a minor and the issuance of the ITC was invallid at the onset. At least the right thing must be done," Mr Abu said.

The Athletico Madrid official is in the country in the company of a Nigerian player agent, Peter Ejiasi, the man who initiated Adams' move.

The youngster excelled at the 2007 tournament in Korea where Ghana's Starlets finished in fourth place.

"Sadick was one of the players at the tournament. In fact, Ghana did not win the tournament, but the Ghanaian players were the best," Ejiasi emphasised in an interview with the Graphic Sports.

Athletico's resolve has been enforced by the rule in Spain that classifies African players as non-foreign players.

Story by Michael Quaye