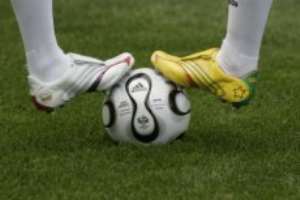 Among the many signs of a season drawing to a close is the challenge for promotion.
To qualify for promotion, the journey begins Sunday as twelve division one clubs vie to fill up the three slots that would be available at the end of the premiership season.
The premiership might have some five matches remaining but for the organisers of the Zonal National Middle League, it's eighteen matches over a three-week period to determine new boys in the elite division for next season.
With the bells for promotion ringing loud since the pairings were released, all twelve clubs are game set for match action.
And with no premiership action, the media spotlight would this weekend be cast on the Zonal National Middle League.
All twelve clubs have been grouped into three different zones.
Four teams are be holed up in each zone with every club playing against all the sides in the group and each team would seek to amass enough points.
Leaders of the three zones after three games qualify for the premiership next season.
From the tall list of twelve are six clubs who were former members of the elite division and are seeking for one of the three slots to the premier league.
B.A United, Okwawu United, Eleven Wise, Great Mariners, Wa All Stars and Mine Stars are looking for a return to the elite division of Ghana football after qualifying to participate in this year's National Middle League.
Two of the six have been rechristened since their drop seasons back – Upper West Heroes have had their name changed to Wa All Stars while GHAPOHA FC are now Great Mariners.
The six, together with the other qualified clubs – Lepo Stars, Catholic Stars, Kessben F.C, Samartex, Mighty Jets and Nania F.C will be contesting for the three slots allocated to Division One clubs after the end of the Premiership season.
Match action begins on Sunday and in Zone I, Lepo Stars take on Wa All Stars in Accra while the Swedru park host the game between B.A. United and Catholic Stars.
Zone II pairs Eleven Wise with Mine Stars at the Nkawkaw park as Samartex host Kessben F.C in Koforidua.
In Zone III, Mighty Jets take on Nania F.C at the Gyandu park while the Robert Mensah stadium would see Okwawu United slug it out with Great Mariners.
Three clubs down the log on the premiership table at the end of the season would be relegated to pave way for the three new entrants.