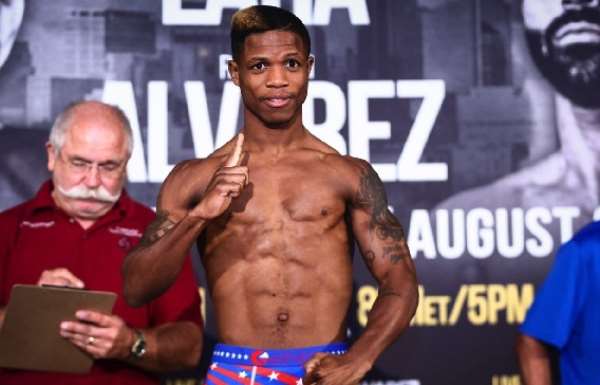 Duke Micah
Duke Micah has vowed to do all within his power to become the latest Ghanaian to win a world boxing title and says his opponent in Saturday's world title showdown, John Riel Casimero, is one of the best fighters in the division ahead of their slugfest on September 26.
Micah, who is undefeated in 24 fights, is hopeful of bringing home the WBO bantamweight title by westing it from Filipino Casimero, a three-division champion when they slug it out in Connecticut on Showtime's Premier Boxing Champions (PBC) pay per view card
The 29-year-old Ghanaian's maiden world title fight will be one of five world championship bouts on the night, with the Charlo twins, Jermall and Jermell, set to headline the bill with separate fights.
Speaking ahead of Saturday's bout, Micah said he was bracing up for the biggest fight of his career which could add his name to the nation's rich history of boxing.
"You have to fight the best to be the best. I'm bringing the title back to Ghana," Micah said.
Micah is yet to fight this year since earning a unanimous decision victory over Janiel Rivera last December.
Having been on the sidelines for over a year due to a promotional tussle with Real Deal Promotions, Micah returned in August 2019 to stop Luis Suarez Cruz in two rounds.
Although his chances against Casimero look slim, with determination he can imitate the likes of Azumah Nelson, Nana Yaw Konadu, Ike 'Bazooka' Quartey and Joseph Agbeko, among others, who shocked the world as underdogs.
Azumah upset Wilfredo Gomez in 1984 to win the World Boxing Council (WBC) featherweight title, whilst Quartey became the World Boxing Association (WBA) welterweight champion by shocking Crisanto Espana in 1994.
In Konadu's case, he travelled to Mexico City to snatch the WBC super-flyweight crown in 1989 and Agbeko was crowned International Boxing Federation (IBF) bantamweight titlist after shocking Luis Alberto Perez in 2007.
In all these examples, Micah's compatriots took their chances to become world champions when the opportunity came.
Meanwhile, Casimero, who has won world titles at light flyweight, flyweight and bantamweight, will make his 11th world championship appearance against Micah on Saturday.
The 31-year-old Filipino possesses an impressive record of eight victories and two defeats in his 10 world title fights.
Ahead of his maiden WBO bantamweight belt defence, Casimero hailed Micah as a good fighter who would be ready to upset him.
"I know my opponent is a good fighter. He's undefeated," Casimero said.