Media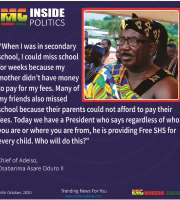 Relevant Links
Media Links
Hugging fat and slim ladies When a man hugs a fat woman, it is a terrible experience. In physics, a fat woman is defined as someone who has mass and occupies a lot of space. The process of hugging starts and ends abruptly because it ends as soon as it starts as the arms cannot go around the mass of the body.

However, hugging a slim lady is quite interesting. You start hugging the woman but because she is too slim, you end up hugging yourself as if she is not there.

Tall and short women are another category. A hug by people of the same height means that there is heart to heart communication. However, if a man is very tall and a woman height ends somewhere around the man's stomach, it is no longer heart to heart communication but heart to stomach communication. Love cannot prevail in such a relationship.


Author: Peter Machilika A.K.A Ashuzi(Member of a duo Comedy group, Mzuzu University Comedy Gurus)
---
---
COMMENTS
Gabriel | 2/28/2019 9:34:29 PM
Really funny tho...

REPLY
Rachelle Mellieon | 3/2/2020 2:27:26 AM
I cant love this comment enough lol

REPLY
Stanley | 5/2/2020 12:38:52 AM
Lol that v funny

REPLY