Media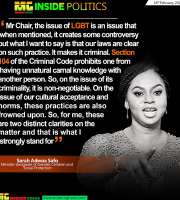 Relevant Links
Media Links
Hugging fat and slim ladies When a man hugs a fat woman, it is a terrible experience. In physics, a fat woman is defined as someone who has mass and occupies a lot of space. The process of hugging starts and ends abruptly because it ends as soon as it starts as the arms cannot go around the mass of the body.

However, hugging a slim lady is quite interesting. You start hugging the woman but because she is too slim, you end up hugging yourself as if she is not there.

Tall and short women are another category. A hug by people of the same height means that there is heart to heart communication. However, if a man is very tall and a woman height ends somewhere around the man's stomach, it is no longer heart to heart communication but heart to stomach communication. Love cannot prevail in such a relationship.


Author: Peter Machilika A.K.A Ashuzi(Member of a duo Comedy group, Mzuzu University Comedy Gurus)
---
---
COMMENTS
Gabriel | 2/28/2019 9:34:29 PM
Really funny tho...

REPLY
Rachelle Mellieon | 3/2/2020 2:27:26 AM
I cant love this comment enough lol

REPLY
Stanley | 5/2/2020 12:38:52 AM
Lol that v funny

REPLY
Top Stories
5 hours ago

Ministerial approval: NDC MPs outsmart Asiedu Nketia who wanted them to take pho...
5 hours ago

US Vice President Kamala Harris arrives in Ghana today
6 hours ago

'I didn't say I'm the messiah, I don't have those spiritual connotations; but I'...
6 hours ago

'Arrest any youth caught eating in public' — Kano State's Hisbah Board tells rel...
6 hours ago

Minority fiasco: Will NDC ever deliver for Ghanaians — Franklin Cudjoe quizzes o...
6 hours ago

Koku Anyidoho defends NDC MPs who voted to approve ministerial nominees
7 hours ago

Kenya police chief bans new opposition protests
7 hours ago

Chad's president signs pardon for 380 rebels sentenced to life in prison
7 hours ago

Replace worn out cylinder hoses, rubber seals regularly — NPA urges public