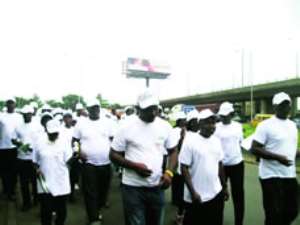 It was recorded in history that film as a medium first arrived in Nigeria in the form of itinerant peephole hawkers of still pictures. These were soon replaced with roving cinemas, which began entertaining Nigerians with doses of American western films. Edgar Rice Buroughs' 1935 film, Sanders of the River, partly shot in Nigeria, helped in putting Nigeria on the world film map through the participation of late Orlando Martins (1899-1985) who acted in the film alongside the American actor, Paul Robeson. Orlando Martins also featured in Man from Morocco and Black Libel, his first film, which was never finished but gave him the needed experience. It was however the part of Magole, the witch doctor, in Men of Two Worlds that put him in the public eyes. Before these films, Glover Memorial Hall is on record as having been the first venue to show a film in Nigeria in August 1903. Documentaries on the Queen's visits to Nigeria, English football matches, Westminster Parliamentary debates, and government-sponsored films on health and education as well as legendary cowboy films soon began dominating the cinemas in the late '50s up to independence.
Before then, there was neither technology nor the means to produce indigenous films but Nigerians were satisfied with mostly foreign films mostly American and Indian films. Soon different quarters of the urban centre became flooded with wall posters of alien culture in the form of American, Indian, Chinese, and Japanese films. Children caught on to the Kung-fu and Karate culture. Nigerians began to know more about Bruce Lee, James Bond, and the travails of the American Indians than they did about the Wole Soyinka-led Mbari Mbayo cultural group, Hubert Ogunde's troupe or other socio-cultural history of Nigeria. Some significant successes were recorded after independence when for about ten years after the Nigeria civil war, Nigerian literature and theatre got introduced to motion picture. Representative of this new wave were the works of Ogunde. He was a doyen of Nigerian art and culture who believed that these were veritable tools in promoting Nigerian culture to the international community. The Nigerian nightlife scene subsequently came alive. Highlife music was the in-thing and the music of the Koola Lobitos, late Stephen Osita Osadebe, The Oriental Brothers, I. K. Dairo, Rex Jim Lawson, E. T. Mensah, and Victor Olaiya, reigned. Others included, Celestine Ugwu, Mike Ejeagha, Jimi Solanke, Victor Uwaifor, Bobby Benson, Fatai Rolling Dollars, Ebenezer Obey, King Sunny Ade, Oliver de Coque, Mamman Shata, Fela Anikulapo Kuti, Orlando Owoh.
Ola Balogun's post civil war flick,reminded Nigerians of the pre-civil war days when Nigeria was one huge undivided house where Igbo musicians sang Yoruba highlife and Yorubas sang Hausa songs. Amadi was an Igbo film made by a Yoruba man and was clearly a glimpse from the future of the film industry in Nigeria. The film Bisi, Daughter of the River was another fair effort on celluloid, which captured Nigerian culture on film. Dinner with the Devil was another first generation Nigerian film by the duo of Sanya Dosunmu and Wole Amele. Eddie Ugbomah's The Great Attempt was also another valiant film. Several decades later, the late Ogunde featured in Joyce Cary's Mister Johnson, a film that did little to elevate the sad perception of Blacks and Africans. Thankfully in the 1980's, the TV serialization of Chinua Achebe's Things Fall Apart became hugely successful. Also on screen were, Adio Family, Village Headmaster, Cock Crow at Dawn, The Masquerade, Mirror in the Sun, Checkmate, Sura The Tailor, Awada Kerikeri and Second Chance, Tales By Moonlight, on national television. These productions, it was noted, were indeed instrumental to the revival of the local film industry and hence the birth of the home video culture in Nigeria.
However, entertainment industry was among the worst hit and had to move indoors due to the Structural Adjustment Programmes (SAP). The few cinema houses existing either had to close shop or were taken over by religious bodies. This, however, accelerated the birth of home video entertainment. The pioneers of this include, Amaka Igwe, Tunde Kelani, Zeb and Chico Ejiro, The Amata brothers, Femi Lasode, Olu Jacobs, Joke Jacobs, Liz Benson, Kenneth Nnebue, Richard Mofe Damijo, Zachee Orji, Pete Edochie, Sam Loco Efe, U.S. Galadima, Yinka Quadri, Idowu Philips, Babatunde Omidina, Jide Kosoko, and others, who inherited, without hesitation, the commercial and artistic traditions of Nigerian film and theatre from the likes of Hubert Ogunde, Moses Olaiya, Duro Ladipo, Ola Balogun, Wole Amele, Eddie Ugbomah, just to name a few, and began to tell Nigeria's stories using the video format. By 1993 when the National Film Festival was held for the first time, Nigeria's film industry score sheet was 25 English, five Hausa, 50 films Yoruba and One Igbo film.
Before now traditional, cultural rhythms and music forms had grown prominently but rather than these forms of entertainment, which over the years, had served as cultural identity for Nigerians, they have given way to musicians who are now producing western-oriented music. Most contemporary musicians and actors have achieved popularity through their cultural and traditional music.
The stage now, however, seems to have been abandoned by contemporary musicians for the generation-X musicians, who are visibly under the influence of western music.
There have been debates over the years on the state and originality of Nigerian music. Some are of the opinion that there is need for a concerted effort to redeem Nigerian music from the throes of undue western influence. Others, however, see the trend as a development in Nigerian music industry. According to Sunday Irih, who spoke with Daily Independent on the state of Nigerian entertainment industry, in terms of "originality and creativity in the Nigerian music industry, they are still not there. We are still at the primary level in the entertainment industry. We are still trying to meet the international demands. The administrative department needs to go back to the drawing board and come out with something that would improve the industry. They should work on their total packaging. I feel the people are not straight and are still in the Dark Age. Being an entertainer has a calling on its own. They should look into the issue of imitation. Our musicians now lack cultural identity and they lack originality."
One of Nigeria's earliest musicians Ebenezer Obey, while speaking with our reporter, said the industry has witnessed tremendous change, adding, however, that a lot still needs to be done, passing the buck of blame on pirates who have since captured the industry with their illegal business. "We have made tremendous progress, we have different generations of musicians. Some belong to the contemporary and we have some which belong to the X-generation. The summary is that we have made progress but we still have more rooms for improvement. The present generation of musicians are doing their own thing in their own way and they are enjoying themselves because music is communication and all generations have to reach their generation. Piracy is another thing that has made it difficult for us to achieve good results. In other for the industry to grow we need to eradicate piracy. War against piracy has been on for a while but if we are persistent, we will achieve something from this and they will be defeated one day because they don't belong to the industry. I thank God that different bodies in the industry have been set up to fight them and I am very optimistic that we will give them a chase."
Another entertainment area which incidentally has received a boom is the comedy sector. Comedy in Nigeria came to shape about 15 years back with the introduction of Night of Thousands Laugh by Opa Williams, which often precedes Nigeria's Independence anniversary. Before now, not many could hold up their heads and claim to be comedians in Nigeria. Those who did anything close, prefer to be called Masters of Ceremony (MC). This was because it was more honourable to go by the appellation of an MC than to be associated with a bunch of people who were described with some of the worst epithets, like 'loafers,' 'people with no future ambition,' jokers' and the like.
Incidentally, these people were not devoted to comedy. They rather breezed in and out of it.
The industry later witnessed the arrival of Atunnyota Alleluya Akpobome, better known as, Ali Baba, whom many have described as the father of Nigeria's comedy industry. He started in 1993. Subsequently, the industry has produced sizeable number of comedians. They include, Basketmouth, Yinka Adeyinka, Ayo Makun, Enchee the Comedian, Klint Da Drunk, Holy Mallam, I Go Dye etc, the industry now can now boast of female comedians like Princess, Helen Paul, Mandy, Lepacious Bose and host of others