Odunlade Adekola vs. Femi Adebayo: Who's better?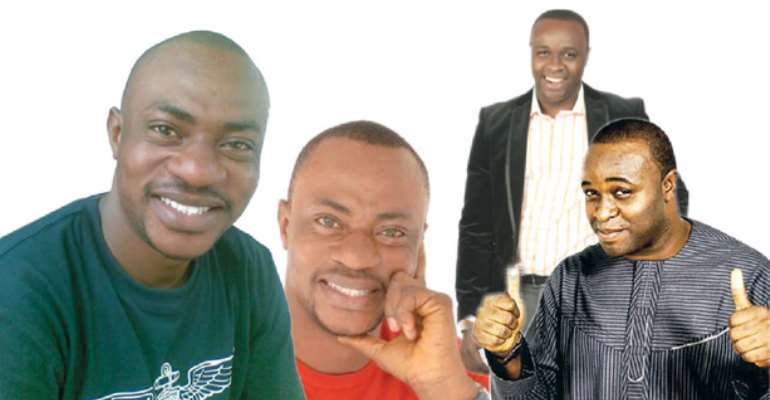 How they got to the top?
This issue of thespians has generated much discourse and argument among their various fans: Odunlade Adekola, popularly called, 'Odun' on one hand, and Femi Adebayo on the other are the objects of controversy. The bone of contention has been whether Odunlade is really better than Femi? For two years running, Odun has been winning the best actor award such that he won it back to back. That aside, recently, a telecommunication company made Odunlade one of its ambassadors, and that heightened the argument. And the question reared its head again – is Odunlade better off as an actor, compared with Adebayo?
Maybe we should take it from the very beginning; Odunlade is a self-made actor who rose to the top through thick and thin. He started from Abeokuta with a group called John Babs about 15 years ago and hit limelight with the late Emmanuel Isola Durojaiye, also known as 'Ahmed Alasari's movie, Asiri Gomina Wa, in 2003, and on this he rode. Between 2007 and 2009, Odunlade was able to prove to Nigerians that he is an actor that cannot be waved aside. In 2009, at the maiden edition of City People Entertainment Awards, he clinched the best actor award. He repeated the feat in 2010, and is not resting on his
oars. As if confirming his acceptance by the viewing populace, Globacom made him one of its new brand ambassadors and that explains the touch of green on his outfit. Odunlade has gone beyond being an actor as he is also a movie producer. He also directs movies too though it is acting and movie production that are his major preoccupations. Odunlade believes this is his time and he has to seize the opportunity and maximize it.
Adebayo, on his part, was born into a family of thespians. He grew up knowing his father as an actor. So, his choosing acting as a career is not a surprise. The only surprise in his own case is the fact that he is a qualified lawyer and was practicing law before he dropped the gown and wig for acting. Adebayo hit limelight when he was very young in Tade Ogidan's movie, Owo Blow. Many have believed that Adebayo's rise in the industry can be linked to the fact that his father is a big name in the movie industry, and as such the name has opened many doors for him.
The argument has therefore been that while the likes of Odunlade were struggling to get a role, all Femi needed was a word from his father to the producer, and he would get a role. Femi candidly agreed sometimes ago to the fact that the name, Oga Bello or Adebayo Salami has helped opened so many doors for him, adding that if he is not good at what he does nobody would want to reckon with him even if his
father recommends him. In other words, his father's name did open doors for him sometimes, but did not keep him there. His hard work did. Another relationship that helped boost Femi's career was the one he had with fellow law graduate who also found herself in the Yoruba movie industry, Funke Akindele. It was while with Funke that many believed Femi got the break that brought him to limelight.
Femi is also a movie producer aside being an actor; while his younger brother, Tope, directs his movies. Adebayo took over the baton of best actor from Odunlade this year as he was so named at this year's edition of City People Entertainment Awards.
Many believe that Odunlade is more of a spontaneous actor who can take up any role at any given time. He is by nature a hyperactive person, and as such very good at roles that entails much activity. Femi on the other hand is a cool person and that reflects in his role interpretation as the matured touch is always attached to it.
Recently, both were trying to showcase their creativity in comedy movies. Odun has been known before now to be a good comic actor; this he started with his role in Beru ba Joba years back, and he has been able to build on it. He has also tried gangster roles and fitted in. Give him humble roles; he will interpret them, maybe due to the fact that he was born by a pastor-father. Femi on his part is always calm
when interpreting roles. He recently tried his hands in a comic role in his movie, Jelili, and this won him an award this year. In relation to education, there are some roles which Femi is better in than Odunlade. Odun is also a good singer as he does all the sound tracks in his movies having grown up in the church.